Archos updates internet-enabled PMP range
The sheets come off the Atom-based Archos 9
The Archos 5 internet-enabled personal media player scored a whopping 90 per cent in Register Hardware's review back in October. But now manufacturer Archos has upped the stakes with an updated model called, simply, Archos 9.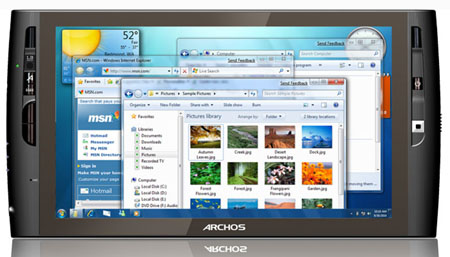 The Archos 9 will run Windows 7
The first thing to point out about Archos 9 is that it will run Windows 7. This means that although Archos is gunning to launch the device by October, the launch will be at the mercy of the arrival of Microsoft's OS, currently pegged for 22 October.
Nonetheless, Archos claimed that the Archos 9 will provide an "unrivalled user experience" that, ultimately, could lead to replacement of the traditional computer – a bold claim.
Underneath the Archos 9's 8.9in, 1024 x 600 touchscreen display you'll find a 1.3GHz Intel Atom Z515 processor and US15W integrated chipset. The machine's equipped with 1GB of DDR 2 memory, Archos said.
A 2.5in 120GB HDD provides the gadget's on-board user-accessible storage, but Archos hasn't mentioned if the machine has a Micro SD or SD memory card slot.
Integrated 802.11b/g Wi-Fi support comes as standard on the Archos 9, as do Bluetooth 2.1 and HSDPA/HSUPSA 3G connectivity.
The Archos 9 measures 256 x 134 x 16mm and weighs "less than 800g" yet still also manages to pack in two USB 2.0 ports, a headphone jack and a 1.3Mp webcam.
Expect the Archos 9 to set you back around €500 (£426/$702), Archos said. ®