Apple's 13in MacBook Pro in online strip tease
Unibody exposed
Photos One item announced during Apple's keynote address at this week's Worldwide Developers Conference took most observers by surprise: the new 13-inch MacBook Pro. It didn't take long, however, for the teardown specialists at iFixIt to get their hands on one and take it apart.
They found the operation to be reassuringly easy, making upgrades of such items as RAM, hard drive, and battery a no-brainer for even the most ham-handed handyperson - and, yes, iFixit will be more than happy to sell you the items you need for an upgrade.
They'll also sell you the tools you'll need, with the exception of the odd-duck tri-wing screwdriver needed to remove the battery. However, since that tool is used to disassemble many a Nintendo product, you can readily find one online or, if you're a tool grinder, you can make your own.
You'll find their detailed teardown of the new 13-inch MacBook Pro especially interesting when compared with their earlier teardown of the original "unibody" MacBook back in October of last year.
For example, as far as ports are concerned, the MacBook Pro 13-incher giveth and the MacBook Pro 13-incher taketh away.
That's last October's "unibody" MacBook on top and the new MacBook Pro on the bottom
The new mini MacBook Pro adds two welcome items for connection to the outside world: a FireWire 800 port and an SD card slot. To make room for them, however, something had to go - and the digital audio-in port was the fall guy. The single audio port on the new model supports analog and digital audio-out, but only analog audio-in.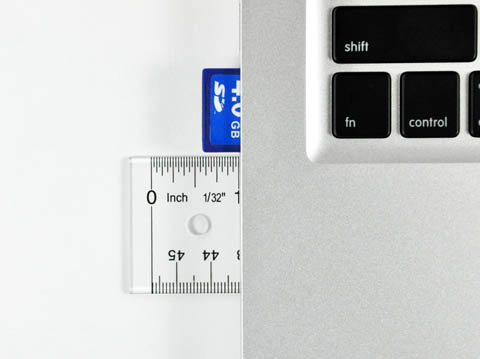 Don't try to force the SD card all the way in - it won't cooperate