SFR rolls out family organiser tablet
Just like the Joggler, Tabbee - only smaller
Wi-Fi family organisation gadgets seem to be flavour of the month - for carriers. Orange has its Tabbee and O2 has the Joggler. Now French network operator SFR has launched its own version, the Hubster.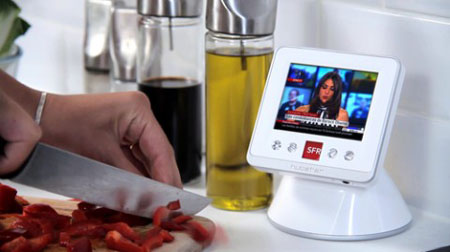 SFR's Hubster: a handy video cookery aid?
Hubster is a miniature tablet equipped with a small touchscreen display, Wi-Fi connectivity and an Ethernet port.
The device can stream videos, music and photos onto its 3.5in-odd display. A voice recorder allows audio memos to be captured and then set as timed alarms. MP3 files, podcasts and radio broadcasts can also be used as alarms, or played as they are.
It's not yet known if Hubster has any user-accessible on-board storage, but the gadget does feature a multi-format memory card slot.
Hubster will go on sale in France later this month, priced at €130 (£123/$185). It's not yet clear if the gadget will be launched in Blighty, under someone else's brand if not SFR.
Not sold on the Hubster? Then check out Register Hardware's O2 Joggler review. ®