O2 Joggler family organiser
More PMP than parental PDA
Review The knack in marketing a product that can perform a multitude of tasks is obviously picking the right ones to focus on but, at the same time, not forgetting to mention anything really interesting. O2 has decided to pitch its new Joggler primarily as an interactive digital calendar for the busy modern family but, after a thorough nose around this oddly named device, we are not entirely sure O2 is focusing on its best side.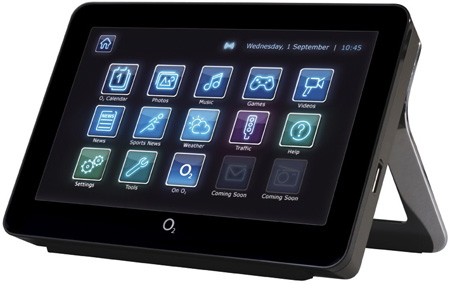 O2's Joggler: silly name, but clever device
In appearance, the Joggler is nothing too out of the ordinary – looking half PMP, half digital photo frame. The body of the device measures 115 x 180 x 25mm and it stands propped up at around sixty degrees by its fixed and non-removable metal stand. The front is of the unit is dominated by a 7in 800x480 LCD screen and, rather unusually, it is completely devoid of controls, buttons or logos.
Without any sort of on/off switch you just plug the Joggler in and wait for it to spring into life whereupon you will be presented with a pleasant green/blue hued home page with fifteen on-screen buttons that provide access to the Joggler's various functions. These include your O2 calendar, photos, music, videos, games, news – current affairs and sports – weather and traffic information.
The remaining buttons take you to a 'what's new/important from O2' page, settings, tools including calculator, alarm clock and memo pad, and a help page. OK, that's only 13. The last two buttons are currently blanked out but, at some point following a firmware update, they will enable access Internet radio stations and messages – presumably e-mails rather than texts.
The current top ten news headlines are sourced from Sky, as is the local three day weather forecast. Traffic data comes from Trafficmaster and simply shows reduced speed warnings on congested roads nationwide. Alas, you can't set the traffic map to show your local area as the default. So, every time you use it you have a drag the map to the right area, which gets a little tiresome after a while.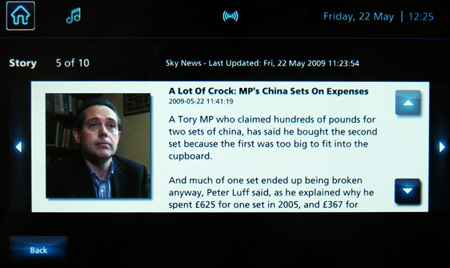 Current affairs and sports news are provided by Sky
Navigating around the Joggler is eminently straightforward. Just tap the icon or file title you want to launch and away you go while an omnipresent image of a house in the top left corner takes you directly back to the home page. When on standby, the Joggler switches to a large and clear display of the current time and date.