Intel Core i7 975 Extreme
Nice - but the cheaper, updated i7 920 is nicer
Review Intel launched its new Core i7 975 Extreme on the first day of Computex and now it's time to put this über processor through its paces.
The old Core i7 965 Extreme has a clock speed of 3.2GHz (24 x 133MHz) and the new 975 Extreme runs a tad faster, 3.33GHz (25 x 133MHz), so we're looking at a four per cent increase in performance. The rest of the features remain unchanged, including the 130W TDP, so the 975 is a drop-in replacement for the 965 if you're prepared to spend £800 to get an extra 133MHz.

Intel's Core i7s: stepping up from the first release
We ran the 965 and 975 back-to-back on an Asus P6T SE motherboard with 3GB of Kingston DDR 3-2000 memory, an AMD ATI Radeon HD 4890 graphics card and an Intel X25-M SSD, all operating under Windows Vista Ultimate Edition.
The short version of the review is that the 975 does indeed deliver four per cent more performance than the 965 but with a slightly higher power draw. We are all in favour of higher performance but in this case the extra grunt is just about the least interesting thing about the new chip.
Whenever Intel has introduced a new CPU in the Pentium III, Pentium 4, Core 2 or Xeon series, it has followed a tried and trusted formula. The new super-fast processor sits at the top of the range and is priced at $999 in batches of 1000. This means that it typically retails for £650-800. The rest of the processors in the range shuffle down, with the price of the second fastest CPU dropping by 30 per cent, the next by 15 per cent and so on. Very few people will be persuaded to buy the new super-fast, super-expensive model but they may well be tempted by one of the mid-range models that has just become cheaper.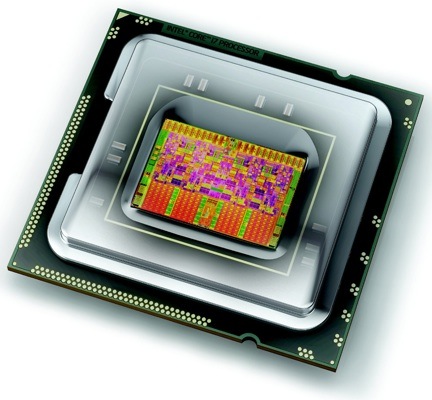 If only they really looked like this...
When it comes to Core i7, Intel has chucked away this particular rulebook and we think we know why. At launch the Core i7 family only had three members:
Core i7 920 2.66GHz at £270
Core i7 940 2.93GHz at £493
Core i7 965 Extreme Edition 3.2GHz at £881