AMD cooking up low-power, twin server
Making Istanbul cool(er)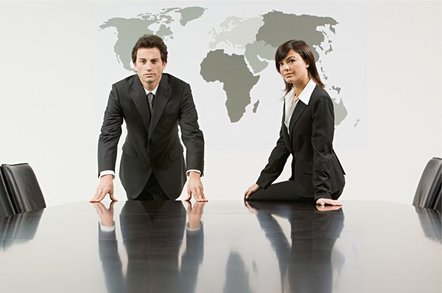 Advanced Micro Devices may have moved up the delivery of its six-core "Istanbul" Opteron processors by some four to five months, but the related "Fiorano" platform and SR5690/SP5100 chipset that is paired with Istanbul is still on its original schedule for some time in the second half of 2009.
As it turns out, there is not just one Fiorano server platform, but two: the standard platform and one focused on low-power, high-efficiency servers code-named "Kroner".
According to Brent Kerby, senior product manager for Opteron products at AMD, the chip supplier spent a lot of time talking to hyperscale server users last year and these customers - not AMD's customers, the server OEMs, but the people actually installing servers - said that they needed to be more aggressive about power efficiency than even the Fiorano platform was going to provide. And so AMD is tweaking the Fiorano design to create a platform named after the plural of the Norwegian currency, presumably.
(Here's some AMD code-name bingo. The Fiorano platform is named after Ferrari's test track in the Italian city of that name, and the future "Maranello" and "San Marino" platforms created using "Magny-Cours" and "Lisbon" processors and the G34 and C32 sockets are named after Ferrari's hometown and one of its Italian racetracks; further down the road in 2011, the "Interlagos" and "Valencia" Opteron chips are named after the circuits in Brazil and Spain. The latest Opteron processors - quad-core "Barcelona" and "Shanghai" chips as well as the current Istanbuls - are named after cities where Formula One races are held as well.)
As you might expect, AMD is being a bit vague about SR5690/SP5100 chipset and the Fiorano and now Kroner platforms, since the products are not going to ship for a while and it does not want to tip its hand to rival Intel or mess up current sales of Shanghai and Istanbul processors. These current Opterons plug into Rev F sockets (with 1,207 pins) and are supported by chipsets made by Broadcom and nVidia as well as the 790FX chipset for single- and dual-socket PCs and workstations created by ATI, which has been part of AMD for nearly three years now.
AMD is leveraging its ATI engineers to make true server chipsets, and has had to rejig its chipset roadmap after it reworked its Opteron roadmap in March 2008 to kill off the eight-core "Montreal" processors with their DDR3 memory controllers and G3 socket. At that time, AMD was convinced by its server chip customers to kick out the six-core Istanbul with DDR2 memory controllers and fitting in the current Rev F socket, and subsequently rewriting Opteron roadmap to its current form and then pulling it forward in April.
Broadcom and nVidia do not have plans to make chipsets for the future Magny-Cours and Lisbon processors, leaving this revenue opportunity wide open for AMD. Phil Hughes, AMD's spokesperson, said in a blog posting in May that the decision by Broadcom and nVidia to not make chipsets for the Opteron chips coming out in the first quarter of 2010 and beyond was not due to licensing issues, and the decision only relates to the Opteron server business.
Not a whole lot is known about the Fiorano server platform, but what is known is that the SR5690/SP5100 will support HyperTransport 3 interconnects and PCI Express 2.0 peripheral slots for higher I/O bandwidth. The chipset and Istanbul chips that plug into the Rev F sockets that link to the chipset will also include support for IOMMU, which is short for I/O Memory Management Unit and which is a technology uses to abstract and virtualize server I/O, much as CPU cores and memory have already been virtualized by chip electronics and hypervisor software. (You can read more about IOMMU here.)
According to Kerby, the SR5690/SP5100 chipset will span as far as eight sockets using Istanbul processors in the Fiorano platform, for a maximum of 48 cores in a single system image. But interestingly, with the shift to the Maranello platform for the six-core and 12-core Magny-Cours Opterons early next year, a maximum of four sockets will be supported with the SR5690/SP5100 chipset, for the same 48 cores maximum.
The Maranello platform, with the G34 socket, will be available for two-socket servers needing lots of main memory as well as for larger four-socket and eight-socket configurations. It looks like the four-core and six-core Lisbon Opterons for the San Marino platform will be available in uniprocessor and two-socket configurations, using the C32 socket and a chipset known as SR5670/SP5100.
Now, let's try to get a sense of what the Kroner platform is.