Samsung shows off video-capable colour e-paper
For reading books or watching films?
Samsung has demoed a small panel that functions as both colour e-paper and as a video display.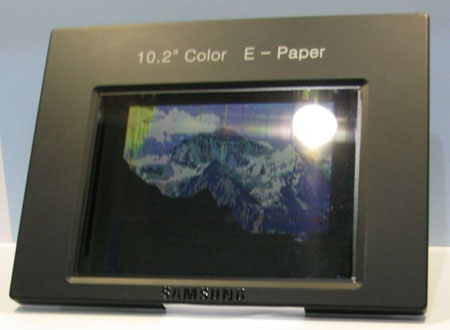 Samsung's screen works like e-paper and displays video
Image courtesy of Tech On
The 10.2in active-matrix LCD was shown off at a recent display exhibition in Texas, where Samsung told website Tech On that the panel uses a form of "cholesteric liquid crystal" (CLC) technology.
This substance has already been adopted by several e-paper manufacturers, including Fujitsu, because of its ability to retain its state when the power is cut so that the e-screen still displays an image.
In Samsung's panel, CLC kicks in during "memory mode" – during which the screen can only be used as colour e-paper. Video can be displayed when the set's flicked into "dynamic mode".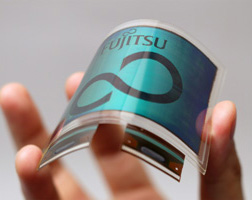 Fujitsu colour e-paper based on CLC technology
Although still only a prototype, Samsung's screen has a 320 x 240 resolution and can display 64m colours.
But Samsung's not the only firm to have added a dash of colour to e-paper. Pixel Qi has previously demoed colour e-paper, which the firm's pitching at laptop makers searching for outdoor-readable displays.
Pixel Qi reckons it'll have commercial product out by the end of this year. ®
Sponsored: How to Process, Wrangle, Analyze and Visualize your Data with Three Complementary Tools