Canon Pixma Pro9000 Mark II
Swift and accurate A3 inkjet
The only data connection is USB, but this is probably all most customers will need. Indeed, the Pixma Pro9000 Mk II isn't an ideal machine to network, because of the many different configurations and paper setups it'll need to work with. To set the printer up, eight separate ink cartridges are plugged into the head carrier. On top of the CMYK set, the Pixma Pro9000 Mk II uses photo cyan and photo magenta, and adds in red for improved flesh tones and green for more vivid landscapes.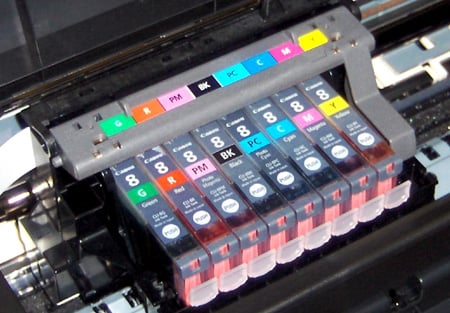 The Japanese version has ten colours – extra black and grey
As well as drivers for Windows from 2000 up and OS X from 10.3.9 – no mention is made of Linux or Unix support – the Canon applications Easy-PhotoPrint EX and CD-LabelPrint are included. These are fairly useful variants of the file housekeeping and basic photo-editing applications provided with most printers, but there's also a full copy of Adobe Photoshop Elements.
Although this is version 6, which doesn't include things like the image element removal of the latest version 7, it's still a very capable application for a bundle. For the lower end of the market this printer is aimed at, Photoshop Elements is handy, but for the semi-pro and pro customers, there's a Photoshop plug-in called Easy-PhotoPrint Pro, which is possibly more useful.
Easy-PhotoPrint Pro enables you to print a variety of different, template arrangements of images and to handle RAW data directly. It works much like a print driver control panel, but supports Linear Tone, ICC and Photo Colour tone modes.
As this machine is designed primarily as a photo printer, it won't come as much of a surprise that its plain paper print speed is rubbish. In fact, our five-page text print took just under three and a half minutes and a five-page text and colour graphics print took nearer to four. If you want to print invoices, it's best to have a mono laser as well as the Pixma Pro9000 Mk II.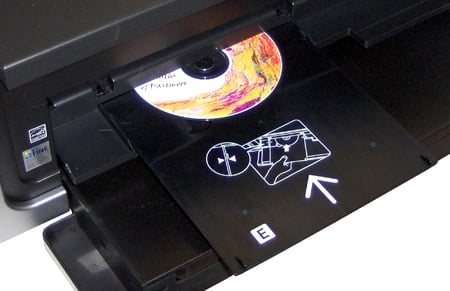 CD printing comes in handy for cataloguing too
Switch to photo paper, print images and it seems like a different machine. A 15 x 10cm print took 51 seconds via a PictBridge connection and just 42s from a PC. These are both very good times and are for standard print mode, not some optimum-speed draft, where the print quality suffers. Even when we fed a full-bleed A3 image to the Pixma Pro9000 Mk II, it completed in 1m 53s – very quick for the size.