EMC sends love letter to Data Domain
The big bad wolf is really soft and cuddly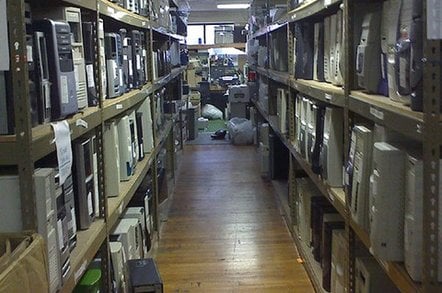 EMC supremo Joe Tucci has sent an open letter to Data Domain staff saying their company has an exciting future inside EMC - which has lots of great takeover stories to tell, unlike a certain other company.
EMC is trying to take over Data Domain and its market-leading target deduplication products with an all-cash $30/share $1.8bn bid, in competition with a $1.9bn part-stock, part-cash bid from NetApp. Data Domain's board has recommended its stock holders accept the NetApp bid but is formulating a formal response to EMC's bid, given that EMC says it is a Superior Proposal relative to the NetApp one.
It is up to Data Domain's stockholders to decide which bid to accept. EMC has not said why it is sending the letter to people who won't make the decision, but we could see it as an indirect attempt to reassure stockholders that Data Domain will retain a measure of independence and find a very welcoming and supportive home inside EMC's big tent.
On the other hand it could be a straightforward attempt to persuade Data Domain employees not to walk if Hopkinton (EMC) prevails over Sunnyvale (NetApp).
An EMC spokesperson provided this background to the sending of the letter:
For those following EMC's bid to acquire Data Domain, you'll recall that EMC initiated its tender offer for all outstanding Data Domain shares on June 1, 2009. Data Domain had already agreed to be acquired by NetApp and, for that reason, was legally prohibited from communicating with EMC.
As is well documented in SEC filings, however, before signing the definitive agreement with NetApp, Data Domain's management excluded EMC from consideration as a potential acquirer despite EMC's attempt at an open dialog. Many outside followers have wondered why the Data Domain Board would not have wanted to create a level playing field for other companies that may have been interested in acquiring Data Domain.
Joe chose the open letter format as the best way to express directly to Data Domain employees his thoughts about why EMC is the best choice for them.
The letter assures Data Domain staff that the EMC culture will welcome and value them, mentioning that EMC has a very good acquisition record. They will have "A great and exciting future" inside EMC. Referring to the staff of companies acquired by EMC, it says: "Many of the people in these companies have gone on to leadership positions in EMC, and we would expect the same potential from the talented people at Data Domain... EMC can grow and develop Data Domain more rapidly and effectively than NetApp can... we stand ready to welcome the talented people of Data Domain to EMC with open arms."
There are several hints that NetApp is weaker than EMC, with EMC having more cash and a stronger balance sheet for example.
Here is the full text of the letter:
An Open Letter to the Employees of Data Domain
We at EMC have the highest regard for the people of Data Domain. You have built a terrific company. We know this because we have closely followed your fast-paced growth and progress for years. We understand the contributions your deduplication technologies and solutions are making to companies around the world. You have a well-earned reputation for attracting skilled storage professionals who excel at innovation. And we admire how uncompromising you are in caring for and serving your customers. In many ways, you remind us of EMC.
For these reasons and many more, we believe that bringing Data Domain into the EMC family would be the best way for you to continue building your careers and accelerating the success you've already achieved in the marketplace.
As you know, your Board of Directors has a fiduciary responsibility to do what is in the best long-term interests of Data Domain's stockholders. Looked at purely from a financial perspective, EMC's $30 per share all-cash tender offer to acquire all of the outstanding stock of Data Domain remains superior to NetApp's part-stock, part-cash offer. But of course there's more to the success of a merger than money can ever account for.
Therefore, we imagine that you must be asking yourselves, what kind of future could I expect to have as a member of the global EMC family? The short answer is a great and exciting future-and here's why:
For starters, EMC is a lot more than just the worldwide market and technology leader in storing, managing, protecting, and securing information - or, as we describe it, information infrastructure. We are also a company that truly knows how to acquire companies that have become leaders in their market segments, integrate them smoothly and successfully, and then empower them to excel. We have learned by doing, and our track record is considerable. For example, over the past six years in the Silicon Valley area alone, we have acquired 11 companies, and today we have about 6,000 employees in the region. We are very mindful of culture-respecting and preserving the various cultures that made the companies we acquired successful in the first place. In nearly every instance, after joining EMC, these businesses have grown faster, advanced the development of their technologies more rapidly, reached more customers, and provided greater career opportunities for their people than they had been able to do on their own.
One reason we've been successful is that EMC does not just have one culture but many, with common characteristics like respect, commitment to customers, and passion for innovation and winning. EMC doesn't acquire to consolidate. We acquire growth companies with great people and innovative technologies, and we invest in accelerating their success while their cultures continue to grow and develop. Many of the people in these companies have gone on to leadership positions in EMC, and we would expect the same potential from the talented people at Data Domain.
Our plan is to keep the people and products of Data Domain intact and operate your company as a product division within EMC. Your target-based deduplication technologies are important to the future of enterprise IT. We plan to invest in Data Domain and grow the business and the innovation even more aggressively because of our broader global reach and size.
How would you as an individual and your company benefit from EMC's resources and commitment to leadership? Not only are we deeply committed to our people and their development, we also have by far the largest storage-focused R&D budget in all of IT, which ensures a product-development pace that enables us to derive the vast majority of our revenues from products that are less than 18 months old. We are a truly global company offering opportunities for international experience, as nearly half of our employees work outside the U.S. We have consistently been ranked among the top global companies for training and development. We have a global sales and marketing organization of about 9,000 people in more than 400 locations around the world, complemented by a partner ecosystem that amplifies our strength, value proposition, and market reach. And we have ample cash and a very strong balance sheet to fund an exciting future.
Our collection of considerable strengths - along with our proven experience in successfully acquiring companies and empowering them to greater heights - should provide assurance that EMC can grow and develop Data Domain more rapidly and effectively than NetApp can.
At the end of the day, companies are really about people-committed, talented, passionate people who want to be challenged, who want to invent and create, do something meaningful and lasting, realize their full potential, make a positive impact on their communities and the world, and have fun doing it. That's exactly what EMC is about. The people of EMC are passionate individuals who get involved and make a difference in the lives of our customers and our communities every day. We stand for putting our customers first, treating people with respect, collaborating smoothly with our colleagues and partners, thinking creatively to solve problems, leveraging our diversity, and maintaining a fully inclusive workforce. And we stand ready to welcome the talented people of Data Domain to EMC with open arms.
Joe Tucci
Chairman, President, and CEO
EMC
If the implicit message to stockholders is that Data Domain will grow faster as part of EMC rather than as part of NetApp then it is a pity perhaps that EMC shares are not included in the bid so that Data Domain stockholders can share in that success instead of pocketing EMC's $30/share and foregoing it. ®