Chinese firm unveils long-distance e-car
Drive for 250 miles in the Zhong Tai
Leccy Tech A Chinese company has developed a battery-powered electric vehicle capable of travelling 250 miles on a single charge.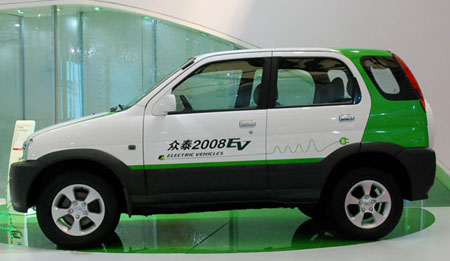 New Power's Zhong Tai: can travel 250 miles on a single charge
The Zhong Tai — which translates roughly as 'Peace and Safety for the People' – is branded by firm New Power, but the vehicle's actually a Zotye 2008 aka the Daihatsu Terios – albeit with a petrol drive train replaced by leccy running gear – manufactured by a sister company to New Power.
Nonetheless, the Zhong Tai's 300kg battery pack is, on average, capable of propelling the mini-SUV for 170 miles at a steady 60mph, or 218 miles at an average of 48mph. To get 250 miles from the car you'll clearly have to drive conservatively.
The car's travel distance comes at the expense of speed, because the Zhong Tai's top speed is a rather flaccid 75mph. It will also take the car 12 seconds to go from 0-60mph, so getaway drivers probably won't be the first to sign up for one.
If you're itching to see the e-car in action, The Sunday Times has already taken the vehicle for a spin around New Power's hometown of Hangzhou.
Mass-production of the Zhong Tai will start next year, but a spokesperson for New Power said it's "in conversations about co-operation for overseas distribution" in the UK and US.
Assuming the car ever makes it to Blighty then an educated guess would put its price at somewhere between £16,300 ($26,000/€18,600) and £20,500 ($32,700/€23,400). ®