School worker's Facebook post prompts suspension
Two month sin binning for calling classes 'bad'
Exclusive A member of staff at a school near Cleethorpes has been suspended on full pay for more than two months for briefly commenting on the behaviour of pupils on Facebook.
The 35-year-old woman, Mrs M, who worked as a cover supervisor at Humberston Comprehensive School close to the Lincolnshire seaside town, is currently awaiting the result of an investigatory hearing, which could lead to her dismissal.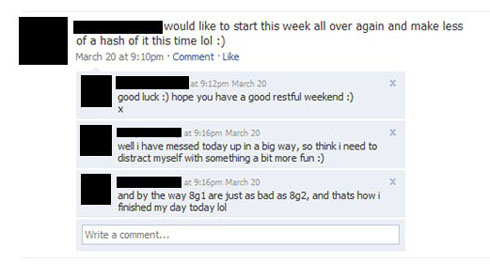 The conversation at the centre of the case
Mrs M made the comments on March 20 in a Facebook conversation with one of the school's teachers, who had complained about the behaviour of a year eight class. The cover supervisor, who is not a fully qualified teacher, wrote: "And by the way 8g1 are just as bad as 8g2, and that's how I finished my day today LOL."
It's unknown how the conversation came to the notice of school authorities, but Mrs M received notice on April 2 that she was suspended from duty "potentially bringing the school into disrepute" because of it. The investigatory hearing was held two weeks ago.
The teacher who made the original complaint about pupil behaviour at the school, which was placed in special measures this January, was not suspended.
The woman is unable to discuss her case publicly due to confidentiality rules surrounding disciplinary procedures. People close to the case, however, claimed her Facebook profile made no mention of the Humberston Comprehensive School.
It's not known when the investigatory panel will report on Mrs M's case. A source close to the school said it remained "in limbo".
Unison, Mrs M's union, had not responded to a request for comment on the case at time of publication.
A spokeswoman for North East Lincolnshire Council, which is responsible for education in Cleethorpes, declined to comment, citing the ongoing investigation.
Schools across the UK have grappled with the issues raised by the rise of social networking. In November a primary school teacher in Cardiff was found guilty of professional misconduct when it was found she spent up to four hours per day on sites including Facebook.
Pupils have also been disciplined for their behaviour online. In January, 29 girls were suspended from a Church school in Westminster for setting up "The Hate Society", a Facebook page dedicated to abuse of an individual teacher. ®