Pioneer Kuro KRL-37V LCD TV
LCD with with plasma pretensions
Then you have merely to finesse sound and vision to your liking. Sound appears to just mean Surround Sound on or off. The Surround Sound effect was rather echoey and best left off except for extreme blockbuster movies.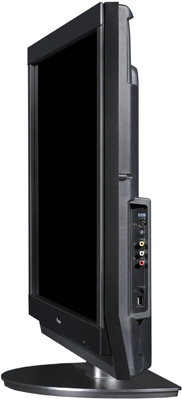 Sideshow: additional interfacing for camcorders and the like
Picture manipulation is not much more complicated and the factory default settings are pretty good. And the picture, let's be clear, is darned impressive. No pasty greys from an over-dominant backlight, with colours muted into pastel versions. The contrast is deeply impressive, the blacks are much stronger than on most LCDs and Pioneer has matched the film-like quality its plasmas excel at. Is it as good as plasma at deep, rich blacks with details leaping out of shadows? No, but it's certainly better than most other LCD screens.
The Pioneer filter on the front of the screen is remarkably successful. This TV is a trifle more reflective than regular LCD screens, which takes getting used to, but it imbues everything with a cinematic sheen. The KRL-37V also has an ambience monitor which adjusts the brightness of the backlight according to the light in the room, which helps with the cinema feel. The 100Hz refresh rate also smoothes the picture.
This is a Full HD panel so, as you'd hope, it's especially strong with HD content. In an episode of Lost on Sky 1 HD, the lush jungle shone out appealingly, while gushing flames in the ancient undercover lair – we'll avoid spoiling too much for those waiting for the DVD – were glossy, but persuasive. Since a lot of HD drama is shot with little or no make-up for the men, it's there we need to look for detail. Skin tones, from Jack Shephard's blood-blotched complexion to Locke's sweaty permatan were convincing.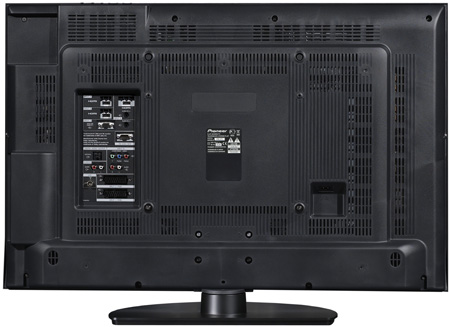 Base concerns: free screwdriver with every set
Older footage such as Mary Poppins on Disney Cinemagic HD had that reassuring Technicolor warmth we recall from childhood, with great sharpness and detail even down to Dick Van Dyke's sooty chimney-sweep clothing.