HP shows off colour display 'skin' for gadgets
Animated laptop-lid logos, anyone?
HP has created a wacky flexible display technology that it's pitching as a way of customising gadgets.
Although HP's remaining somewhat coy about eSkins' specific uses, it described the technology as a "flexible reflective colour film" that gives gadgets "an electronically controlled colour surface".
Sounds bizarre, doesn't it? HP's description makes eSkins sound like a secondary display that would sit over, say, your mobile phone's primary screen.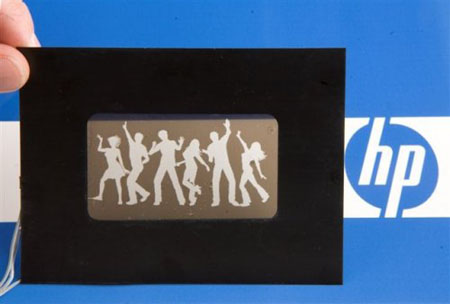 HP's eSkin's "flexible reflective colour films" could be integrated into gadgets as a second screen
As eSkins would probably draw less power than your handset's main screen, allowing the HP film to permanently display a wallpaper when your phone's not in use, or the time and date.
Alternately, MP3 player manufacturers could use eSkins as a way of displaying lyrics without soaking up your battery, or as a way of showing you pictures of the band or singer you're currently listening to.
Whatever's shown, the eSkins are able to reflect print-like colours and "electronically shift into a transparent state", revealing the surface below - in this case, the mains screen when the user turns it on.
HP added that eSkins also offer brand manufacturers new ways to personalise their products, because the film can reflectively display icons and alpha-numeric characters.
If this were the case then perhaps Apple might consider integrating an eSkin into the iPhone as a way of animating and colouring its static back-of-case logo, while PC manufacturers could incorporate dancing logos into the lids of their laptops.
eSkins are manufactured using a roll-to-roll process, so sheets can presumably be made to measure.
HP hasn't said when you can expect to see eSkin-equipped gadgets in the shops, but has promised to demo the technology at a display fair in San Antonio, North America later this week. ®
Sponsored: Detecting cyber attacks as a small to medium business