David Carradine found dead in Bangkok
'Close your eyes, what do you hear?'
Local media report that veteran actor David Carradine has been found dead in a Bangkok hotel room - apparently having hung himself in a closet using a curtain cord.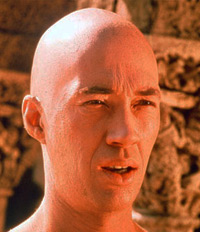 The 73-year-old actor was in the city to shoot his latest movie, Stretch. His personal manager Chuck Binder described the news as "shocking".
The Bangkok Nation claims he was first missed yesterday evening when he was due to meet the crew at a restaurant, but failed to appear.
They assumed he "took a rest because of his age". This morning, the hotel maid found him dead in his suite.
Police said he was found "with a rope around his neck and genitals", according to a BBC report this afternoon. The Nation notes that preliminary investigations found "no sign of fighting and assaults" and that Carradine hanged himself.
Carradine's career highlights included 1970s series Kung Fu and Quentin Tarantino's Kill Bill films.
Carradine was born in California on 8 December 1936, the son of character actor John Carradine. Early roles included TV outings in Wagon Train and The Virginian, and in 1966 he fronted the TV adaptation of classic western Shane.
Following the success of Kung Fu, he moved on to movie outings such as 1975's Death Race 2000 before reprising the role of Kwai Chang Caine in TV's Kung Fu: The Legend Continues from 1993-1997. ®
Sponsored: Detecting cyber attacks as a small to medium business