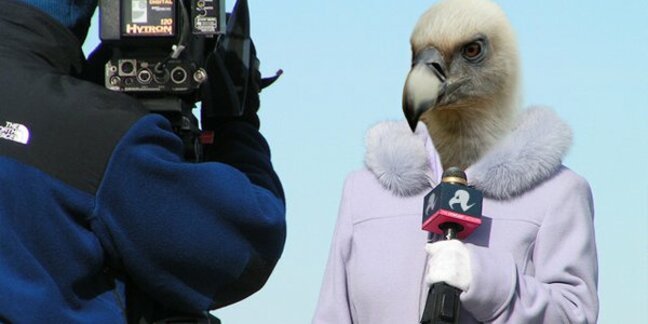 Broadcom is appealing directly to Emulex stockholders to consent to proposals to call a special meeting that could toss the Emulex board out on its collective ear.
Emulex has painted Broadcom as a marauding (and drug-addled) beast, but Broadcom casts itself in quite a different light; its mission is to rescue the struggling company from its nasty old captors - board chairman Paul Folino and CEO James McCluney - and restore it to the exalted position it deserves.
Broadcom is determinedly undermining Emulex's board and leadership by laying bare the company's under-performance relative to QLogic and the market generally in a presentation (pdf). We and stockholders are shown how Emulex's leadership over-promises and under-delivers while competitor QLogic does better, and while Broadcom shows better performance than the semi-conductor market generally.
The presentation fingers Folino and McCluney as the main board reps because they own more shares than any other board member; and because the other members, it implies, are time servers with a "15 year average... tenured membership".
Emulex's under-performance is laid out with great clarity. For example: "Emulex lost 67.1 percent of its value, compared with losses of 30.6 percent and 36.3 percent for QLogic and the NASDAQ Composite Index, respectively, for the two years ending on the day before Broadcom made its offer public."
Broadcom says analysts have learnt to distrust Emulex's expectations as to future growth. It says that Emulex's compound annual growth rate from fiscal 2004 through fiscal 2008 to the estimated fiscal 2009 results is just one percent.
After Broadcom made its offer public Emulex has publicised growth projections to 2012 that would require a 17 percent CAGR. This track record makes Emulex's recently announced "hockey-stick" revenue growth projection of dubious value. In other words they are unrealistic and unbelievable and require Emulex to get value from its recent design wins that it has never achieved in the past five years.
What Broadcom is doing is contacting Emulex stockholders and asking them to agree to its call for proposals enabling them to force through a special stockholder meeting, which can discuss Broadcom's takeover proposals.
Scott McGregor, Broadcom's President and CEO, said: "Supporting this Consent Solicitation gives Emulex stockholders the option to consider their choices, without having to commit at this time to any one choice. Our proposals in the Consent Solicitation would give Emulex stockholders the ability to be heard in the most important matters affecting their investment.
"Contrary to misleading statements by Emulex about our proposals, support for the consent solicitation does not obligate Emulex stockholders to tender their shares to Broadcom or to elect new Board members."
What about the Emulex coke-hound accusations, about Broadcom being unfit because of influence still peddled by a founder facing federal drug-related charges as well as stock option back-dating ones?
"Emulex has... resorted to costly, mudslinging litigation that is wholly irrelevant to our offer, entirely without merit and has no place in today's prevailing standards of sound corporate governance and responsible Board conduct," McGregor responded. "These actions demonstrate that the Emulex Board is unlikely to enter into legitimate negotiations toward a transaction in the stockholders' best interest unless Emulex stockholders take action."
And, unless they do, Broadcom could walk away.
There it is, the hint of stick among all the carrots. Emulex stockholders should not trust their board to repesent their interests. If they want Emulex to be saved, there's only one answer they can give to Broadcom's request. ®
Sponsored: Ransomware has gone nuclear