Shuttle X 5000TA
The touchscreen all-in-one your kitchen's been waiting for?
Review Although the Shuttle All-in-One PC X5000TA looks like a TFT display with a chunky bezel for the speakers, it's actually a proper PC that is controlled through its 15.6in touchscreen. It's housed in a relatively sleek chassis that measures 391mm wide by 327mm high and is only 36mm thick. The fold-out stand at the rear swings up to double as a carry handle so the 4kg weight - including the external power brick - isn't much of an obstacle if you're lugging the X5000TA from one room to another.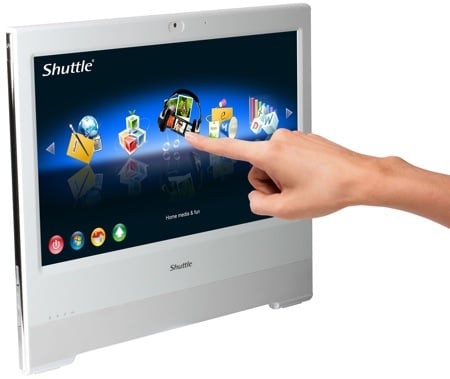 Shuttle's All-in-One PC X5000TA: touchscreen gimmick?
The machine is powered by an Intel Atom 330 dual-core processor and runs on an Intel 945G chipset with integrated GMA 950 graphics so it has the same features as most netbooks on the market. Other parts of the specification include a 2.5in 160GB Sata hard drive from WD and a single 1GB module of 667MHz DDR 2 memory from Transcend, though it runs at 400MHz. The Shuttle supports up to 2GB of Ram and there's a second memory slot available for expansion.
The most surprising part of the spec is the choice of operating system. Shuttle has installed Windows Vista Home Basic. It's Vista Home Basic rather than Home Premium as the Intel graphics aren't up to the job of running the Aero desktop but you have to wonder why Shuttle chose Vista instead of Windows XP or a version of Linux.
If you share our doubts about the advisability of using Vista on an Atom-based PC, you can hunt around for a Shuttle X50XA which has the same 1GB Ram and 160GB HDD as the X5000TA but comes without an OS at a price of £469 instead of £535 for the Vista version.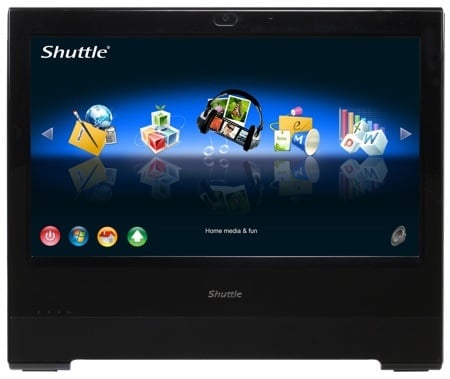 Quick-access UI... or Vista
Alternatively, you can buy an X5000T build-to-order with 1GB or 2GB of Ram and 160-500GB of hard drive storage. You don't get much in the way of options as the CPU, chipset and graphics are soldered onto the motherboard and there's no room for an optical drive in the chassis, so the hard drive, RAM and Operating System are the limit of the choices on offer. In the event that you fancy a home brew, you might be able to lay your hands on the X50 barebones that is the basis of the X5000TA, X50XA and X5000T and choose your own Ram and hard drive, but we can't think of a good reason for doing that.
Sponsored: Detecting cyber attacks as a small to medium business