VIA offshoot aims ARM SoC at Intel's Atom
WonderMedia's Prizm unveiled
Computex Having largely failed to dent Intel's share of the netbook processor market, Taiwan's VIA is having another go, this time pitching a part at the nascent handheld internet tablet arena - and on the back of the ARM architecture.
The chip in question is the Prizm 8510, a system-on-a-chip being released by a company called WonderMedia which is nonetheless a wholly owned VIA offshoot. The part was announced today at the Computex show in Taipei.
The Prizm contains an ARM CPU, a GPU, a video decoding unit, its own memory and Flash storage controllers, handlers for all the hardware devive makers are likely to want to build in - display, memory card reader, keypad, audio, camera, parallel ATA storage and so on - and a USB 2.0 controller for other peripherals. There's an MPEG-TS reader to handle feeds from digital TV tuners.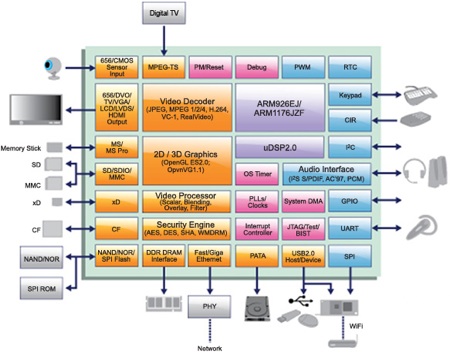 Following the pattern established by VIA's x86 CPUs, the Prizm has on-board encryption and decryption hardware.
Want it to do something else? Then make use of the programmable DSP core that WonderMedia has built in. It'll connect to 3G, Wi-Fi and/or Bluetooth hardware too.
There's a Gigabit Ethernet MAC for wired networking, so it's clear VIA and WonderMedia want this thing in nettops as well as netbooks - it calls them "SmartBooks" - and MIDs. WonderMedia also has its eye on internet-connected photo frames, media players and other, embedded applications.
All that will take it up against Intel's next-gen Atom platform, 'Moorestown', itself more of a system-on-a-chip than past Atoms have been. WonderMedia touted Prizm's "low power consumption", but wasn't forthcoming with details.
WonderMedia indicated is has Linux, Google Android and Windows CE running on its hardware, along with a Flash Lite-based UI it hopes to tempt device makers with. The company's Prizm software stack includes "full" DLNA home media sharing capabilities. The platform does all host devices need it to do to win Windows 7 Networked Media Device certification. ®
Sponsored: Becoming a Pragmatic Security Leader