Sony X-Series Walkman
Does it kick the iPod into touch?
Review For the last few years, Sony has applied its iconic Walkman brand to Sony Ericsson products and performed sterling work in developing sound quality and user friendliness in media playing mobile phones. The new X-series Walkman has no phone element whatsoever, but it does have an OLED touch screen, built-in Wi-Fi for Internet access, video playback and an FM radio.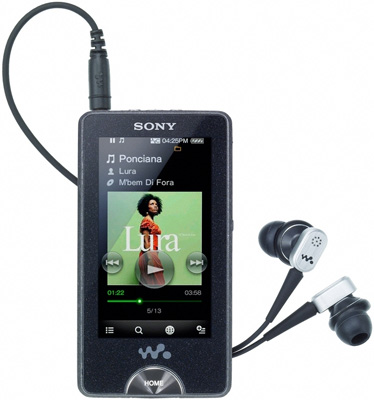 Sony's X-Series Walkman available in 16GB or 32GB capacities
With its capacitive touch screen, the X-series Walkman Sony is clearly gunning for the iconic iPod Touch. They are, however, different beasts. The X-series is considerably smaller at 98x53x11mm – the iPod Touch measures 110x62x9mm – but the Sony model also has a 3in, WQVGA 432x240 OLED screen, rather than Touch's 480x320, 3.5in LCD.
The X-series comes in two flavours, the 16GB NWZ-X1050 and the 32GB NWZ-X1060. Encased in glossy black plastic on the front and back, there's a sort of stone-effect surround on the sides, which makes it easy to grip, and also gives an impression of ruggedness.
There's a large home button on the front in the shape of a semicircle and on top there are hard controls for play/pause, FWD and RWD, plus another semicircle button on the back for locking the controls. On the sides are the volume rocker and noise cancellation button. The proliferation of hard buttons seems a bit cluttered when compared to the iPod Touch, but they do provide the option of controlling the device while keeping it in your pocket.
OLED screens are being touted as the next great leap forward for TVs, with their enviably sharper resolution, faster rendering speed and wider viewing angle, but those benefits aren't quite so obvious on the very small screen. Watching the same video concurrently on Walkman and Touch however, Sony's OLED screen is clearly superior – sharper, with richer colours and more precise definition. That said, we did find ourselves wishing it were a little bigger though.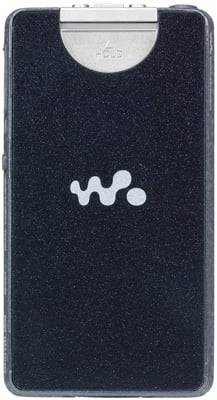 Get stoned: mock ruggedness from Sony's earthy styling
The noise-cancelling function does work, and can come in handy for blocking out ambient noise on an airplane or train, though it's not as effective as some of the systems we've tried on full-cup headphones. Moreover, this feature will only work with the supplied headphones, which aren't bad at all, if perhaps a little weak in the bass. Using alternative headphones is easy enough, as the X-series features a standard 3.5mm mini jack socket.