Samsung WB500
World's widest angle compact camera?
Frame guide is handy if you want to compose a frame that will feature you in it, and you want someone else to take the shot. You frame the shot, press the shutter and the outer edge of the frame is recorded as a translucent border, which is used a guide for framing the shot as you composed it. One thing we didn't like about the menus was that the text was rather small and there's really no reason why Samsung couldn't have made it much larger and clearer.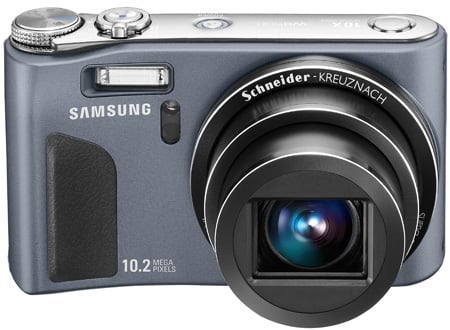 Excellent battery life even when recording HD video
The Function button offers easy access to various settings, such as file size, ISO speed, drive mode, focus area and metering mode. The menu button can be used for adjusting a number of parameters including one called ACB – Automatic Contrast Balance, which is designed to adjust the brightness of underexposed scenes, such as backlit subjects.
In manual exposure mode, the command lever can be used to adjust shutter speed or aperture size, although you only get a choice of two aperture settings. During Playback, you can use the Smart Album feature, which enables you to find shots by date, media type or even dominant colour.
In terms of performance, the WB500 acquits itself quite well for a camera at this price point. Noise isn't noticeable until around ISO 400, although the highest settings exhibit a lot of it. Colours are rich, although fine detail is lacking. That said, we think many WB500 users would be more than satisfied with the results.
However, we weren't convinced about the effectiveness of ACB, and manual exposure is not that flexible. HD video quality was good but, even at 30f/s we noticed some motion jerkiness with fast-moving vehicles. The 60fps QVGA shots were smoother, although of course, the price you pay is much lower resolution.
Verdict
The inclusion of the equivalent of a 24mm lens is to be welcomed and you certainly get a versatile zoom for your money. You also get plenty of features although quite how many of them users will get around to trying is debatable. But at least they're there if you need them. Performance is good if not outstanding and the inclusion of HD video is a bonus, although it's a shame Samsung makes it hard to view on a HD Ready set. If you you're looking for a budget compact that will deliver decent results and aren't too bothered about size, then the WB500 is certainly worth taking a look at. ®
More Compact Camera Reviews...

Kodak EasyShare
M1093 IS

Pentax Optio
E70L

Panasonic Lumix
DMC-FS7

Fujifilm Finepix
F100fd

Samsung WB500
Chunky but cheap with a 24mm wide angle lens and oodles of features, including HD video recording