Samsung WB500
World's widest angle compact camera?
Unusually for a camera at this price range, you also get a good selection of movie recording modes, including two HD recording settings: HQ and standard – both at 1280 x 720 with 30f/s and 15f/s options. You can also record VGA resolution movies at 30f/s and 15f/s, and there are three frame rates available for QVGA movies – 60f/s, 30fps and 15f/s. Video recordings are made in MPEG-4 AVC/ H.264 file format. The HD recording feature is a nice touch, a pity then, that Samsung has omitted a mini HDMI port on the WB500...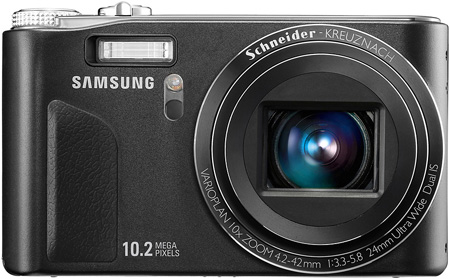 The lens delivers a wide angle view equivalent to 24mm on a 35mm camera
There are lots of effects available both for recording and playback. Press the Effect button and you can select a Photo Style for your image, including vivid, soft, forest and retro. Post-recording tweaks include resizing, trimming and rotating images as well adding various colour effects (such as black and white, sepia and blue), reducing red eye, and adjusting brightness, contrast and saturation.
Certainly, you can do all of this and more with a basic photo management software package, but we reckon many WB500 users will be point-and-shoot photographers who will appreciate the in-camera editing options.
There's also a bunch of features designed to improve picture quality – or your subject's appearance. One of these is beauty shot, which Samsung says is: "like having your own make-up artists in your camera...actively identifying imperfections and retouching them so face appears brighter and smooth." Who needs botox when you've got a WB500?
When it comes to handling, the WB500's large size means there's plenty to grip and the right side of the body is curved and has a plastic finger grip pad. The WB500 is ready for action some three seconds after switch on and while shutter lag isn't bad, there are occasions when you have to wait for the WB500 to write data to the card. The shutter action is not that positive and the zoom rocker is small and rather stiff, so fine focusing is a bit hit and miss.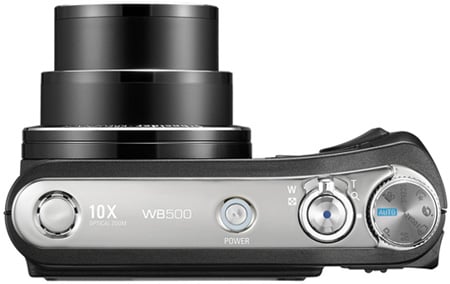 Numerous shooting modes are included to appeal experimental users
The mode dial offers an interesting mix of shooting modes. In addition to the usual auto, program AE, manual and movie modes, you can also use it to select the Dual IS, Nightscene and Beauty Shot and Scene modes. There are fifteen scene modes to select including portrait, backlight, landscape, children and frame guide.