Novell carbon copies another quarter
No silver lining yet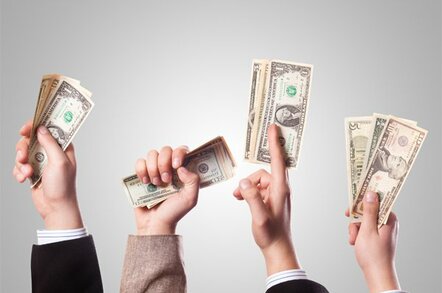 Operating system maker Novell had about as good - or bad - a recent quarter as everyone else in the IT racket.
For its quarter ended April 30, Novell sales fell by 8.5 per cent to $215.6m. But because it has been tightening the belt and it had a pretty bad corresponding quarter last fiscal year, bringing $15m to the bottom line looked good by contrast. Nonetheless, Novell has a ways to go before it is as profitable as it needs to be or investors want it to be, and as it turns out, key product lines are not profitable.
In its fiscal Q2, Novell's software license sales plummeted by almost 32 per cent to $30.3m, and services sales fell by a similar 33.1 per cent to $27m. Maintenance and software subscriptions, thanks in part to renewals of SUSE Linux, rose by 4.9 per cent to $158.3m.
Novell dialed back product development and overhead costs a bit compared to a year ago, but cut its sales and marketing budget by $18.2m, which was the main reason why it was able to report that net earnings increased almost three-fold compared to the year-ago quarter.
In the Open Platform Solutions group, which is where Novell has hitched its wagon to the open source Linux platform, maintenance and subscription sales amounted $38.8m, up 23.4 per cent, driven by 25 per cent growth in Linux support contract sales, which came in at $36.7m. Overall, the Open Platform Solutions group booked $44.1m in revenues, including software licenses for closed source products and services, which was an increase of 17.6 per cent compared to fiscal 2008's Q2.
Significantly, gross profits for this piece of Novell rose by 30.2 per cent, to $34.75m. But in a conference call with Wall Street analysts, Novell Chief Financial Officer, Dana Russell said that "profitability continues to move in the right direction" for the Open Platform biz and conceded that it would take a year to 18 months more ramping for it to become profitable.
He added that Novell had $40m in SUSE Linux invoicing in the quarter, up 2 per cent, and that it had invoiced $213m, or 89 per cent, of the $240m SUSE Linux coupon deal that Novell cut with Microsoft in November 2006. (In late 2008, Microsoft extended this deal with another $100m of coupons, and prepaid $25m of that even before it had burned the coupons in the original deal to help goose Novell's fiscal Q1 three months ago.)
If you do the math, that means $15m of the original Microsoft Linux coupons were invoiced in fiscal Q2, which was a lot better than the $4m in fiscal Q1. But the pace is still way lower than the uptake was a year ago, and it is reasonable to wonder how long it will take to burn the remaining $127m in coupons Microsoft has acquired.
All vendors practice obfuscation in their financials, and Novell combines its Open Enterprise Server - which is really SUSE Linux with some NetWare services as well as licenses to the real NetWare 6.5 that can run inside partitions - and NetWare businesses into one business unit, called its Workgroup group, to try to cover up the decline in its NetWare biz. (GroupWise collaboration software and a bunch of other things get tossed into this Workgroup category, too.) Anyway, the sales of OES and NetWare licenses, subscriptions, and maintenance came to $44.8m in fiscal Q2, a fall of 12.5 per cent, and GroupWise sales hit $24.4m, down 13.8 per cent.
Total Workgroup sales were $79.4m, down 13.8 per cent as well. Russell said Novell believed that the decline rate in this NetWare-OES business would "moderate to single digits over the long term." Part of the reason why Novell believes this is that some 75 per cent of OES and NetWare shops that have deployed atop the NetWare kernel (using earlier OES versions) have started some porting activities to the OES variant running atop the SUSE Linux kernel.
Still, the fact remains that since Novell acquired SUSE Linux, the increase in Linux revenues has not been enough to offset declines in NetWare and GroupWise sales. Novell is still managing a decline.
Sales in Novell's Systems and Resource Management group, which sells ZENworks and PlateSpin tools, among others, had $40.1m in sales, down 1.9 per cent, and Ron Hovsepian, Novell's president and chief executive officer, said that this business unit was not yet profitable and added that he hopes that it will be profitable in the next 12 to 18 months, just like the Linux business.
Novell's Identity and Security Management group business had flat sales, at $30.3m, and Hovsepian said that this unit should be profitable in 12 months or less. Interestingly, Hovsepian said that starting in fiscal 2010, Novell will break out complete profit and loss statements for each operating group, and Russell said that Linux was the biggest "consumer of resources" at the company.
Novell booked $7m in restructuring charges in the quarter, and its headcount was the same as it was at the end of the last quarter, with 3,900 employees. Russell said that in a normal fiscal year, the second half usually sees a revenue bump, but he warned that sales could stay flat quarter to quarter (as they did so far in fiscal 2009), and that means Novell is going to be under pressure to cut costs to keep in the black.
Hovsepian said that in terms of the economy, things seemed to be a little bit better than they were in the past quarter, when Novell's sales pipeline broke apart.
"It feels like we have hot the bottom in the United States, but Europe seems to be lagging behind by about six months," he said. ®
Sponsored: Webcast: Build the next generation of your business in the public cloud