Philips Streamium NP2900
Stylish and sonically satisfying streaming sound system
Review Logitech's Squeezebox Boom has been a firm favourite here at Vulture Central and, for the best part of a year, it has had the market to itself. Now Philips is looking to crash the party with the new Streamium NP2900, another device designed to play music stored on your computer over an 802.11b/g wireless network, without the need for a separate hi-fi.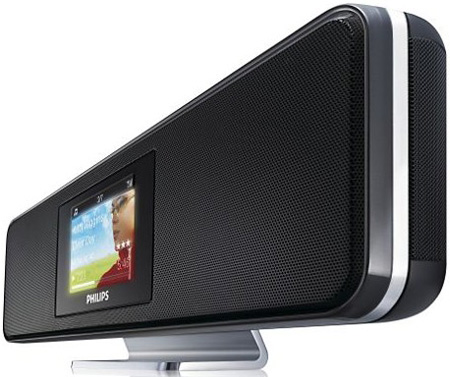 Philips' Streamium NP2900 – a stylish arrival at the networked music party
The first thing that struck us when we unpacked the NP2900 was how much smaller than the Boom it is. At 346x69x99mm and weighing under 1.5kg it takes up quite a bit less space, while the styling is a rather more in keeping with the usual home audio aesthetic. Don't get us wrong, we like the way the Boom looks, but it's a bit too brutal for some tastes. The NP2900's svelte looks are helped by the absence of controls other than very small power, volume and mute buttons on the top of the device.
Of course that height measurement doesn't include the articulated Wi-Fi antenna or the 10mm stand though Philips do supply a fixing bracket should you wish to bolt your NP2900 to a wall. Around the back of the NP2900 you will find a 3.5mm headphones jack, Ethernet socket, digital coaxial out and L/R stereo analogue phono input sockets which between them should cover most users' connectivity needs.
The NP2900 comes with a comprehensive remote control featuring an excellent navigation pad and is very well labelled. More to the point, it allows direct access to almost all the system's settings minimising time wasted drilling down through menus. Its only downside is that holding down the navigation arrows don't scroll through long lists.
Despite its small size the NP2900 has four speakers squeezed into the chassis – two 65mm units facing forward and two side facing 40mm units. The former are each rated at 10W RMS, the latter at 6W. Audio file support extends to MP3, FLAC, Ogg Vorbis, WMA and AAC/eAAC+, all without DRM naturally. Try and play a DRM protected file and the screen rather confusingly flashes up a 'Server Not Found' message rather than something a little more accurate.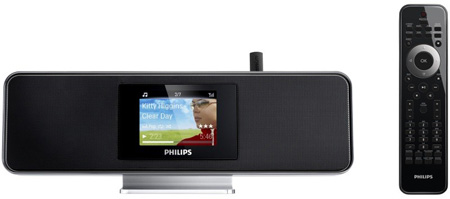 The comprehensive remote control delivers swift access to most settings
While Logitech's Boom has to make do with a 160x132 pixel green screen the NP2900's 70x55mm display is a full colour 320x240 affair. Not only does this look more attractive – album artwork is used as the screen background when available – it also shows more information and is easier to read. The screen has a two position dimmer switch, which is handy if you plan on using it in the bedroom, while the standby screen can be set to show either the time and date or switch off completely.