Obama taps new NASA boss
Four-time shuttle astronaut
After weeks of speculation about who will become NASA's new boss, US President Barack Obama has named four-time shuttle astronaut and retired Marine major general Charles Bolden as his nominee for the post.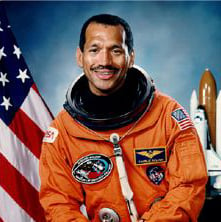 Charles Bolden, Image courtesy NASA
Although the nod came later than expected, Bolden's name has already been floating around as the leading candidate. In the announcement Saturday, Obama also named former NASA associate administrator Lori Garver as his choice for the agency's number two.
"These talented individuals will help put NASA on course to boldly push the boundaries of science, aeronautics and exploration in the 21st century and ensure the long-term vibrancy of America's space program," Obama said in a statement.
If Bolden gets the necessary approval from the US Senate, he'll be the second former astronaut to hold the Administrator position. No timetable for confirmation proceedings have been set, but NASA's previous boss Mike Griffin was approved in just over a month back in 2005.
NASA's next boss will have the difficult task of overseeing the space agency's transition to the Ares rocket and Orion spacecraft program. There will also be trouble balancing budget constraints against the agency's plans for a new lunar program.
Most space experts agree Bolden is well qualified for the position. He was aboard four space flights at NASA, twice as shuttle commander. Bolden's notable missions include deploying the Hubble Space Telescope in 1990 and commanding shuttle Discovery in 1994 in the first NASA mission with a Russian cosmonaut aboard.
A graduate of the US Naval Academy in 1968, Bolden flew more than 100 combat missions during the Vietnam War as a naval aviator and earned honors including the Distinguished Flying Cross. He retired from the US Marine Corps in 2003 after serving as commanding general of the Third Marine Aircraft Wing and as deputy commander of US forces in Japan.
Bolden later served on the board of directors of GenCorp, the parent corporation of propulsion company Aerojet from 2005 to 2008. The Orlando Sentinel reports Bolden may need a "limited waiver" from new NASA ethic rules to avoid conflict-of-interest regulations before helming NASA. GenCorp has a contract on NASA's Constellation project and Aerojet has contracts for Constellation parts and rocket boosters NASA may adopt. ®