Inside USB 3.0
What makes SuperSpeed tick
The USB 3.0 Standard A connector's an elegant solution to the problem of cramming five extra lines into a plug-socket assembly designed to take four. The Standard B arrangement - that more square socket usually found on printers - isn't. The USB 3.0-specific pins have been added in a bulge on top of the USB 2.0 connector, so USB 3.0 Standard B sockets will take USB 2.0 versions, but not the other way round - though there'll surely be plenty of adaptor cables on the market.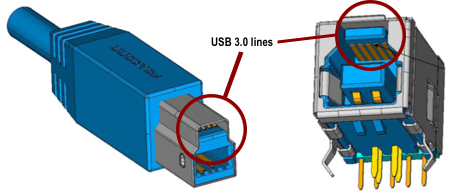 SuperSpeed's Standard B port pair
Incidentally, there's a variant of USB 3.0 Standard B that adds a couple of extra power and ground lines to the USB 2.0 part of the plug.
When it comes to micro connectors - there's no Mini USB 3.0 as yet - it gets rather messy. It's perhaps bad enough sticking a tiny, USB 3.0-specific plug alongside the slightly larger USB 2.0 connector, but to make matters worse, there are three version of this arrangement: A, B and AB. We hope mobile device makers - for whom the micro ports were created - will adopt the Micro-AB port since that's able to take any of the USB 3.0 and 2.0 plugs that are likely to come its way.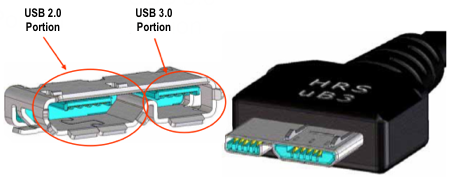 USB 3.0 Micro B (top) and Micro AB/A
Sponsored: Beyond the Data Frontier