Obama embarks on car emissions cutback
Regulation aims for 30 per cent reduction by 2016
Leccy Tech President Barack Obama has proposed tough new rules for vehicle emissions, which could see a 30 per cent reduction in individual passenger car emissions by 2016.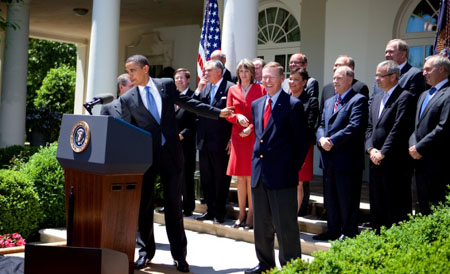 Obama and friends unveil CAFE from the White House Rose Garden
The new Corporate Average Fuel Economy (CAFE) standards also decree that car manufacturers must maintain a fleet fuel consumption average of 43mpg by 2016.
This fuel consumption average includes both commercial vehicles and passenger cars, but 51mpg has been set as the standard for cars and 31mpg for light commercial vehicles. Current standards are 33mpg and 29mpg, respectively.
It's worth noting that Obama's targets are similar to those suggested by the state of California back in 2008 – targets that could have seen the state and car makers fight it out in court if it had imposed them unilaterally.
In an effort to get manufacturers ready for the 2016 CAFE deadline, Washington has proposed that the regulation comes into effect in 2011 - but with standards tightened by five per cent per annum until fully met by 2016.
Unlike 1990's emissions standards proposals, car makers are on-side this time around thanks mainly to a $50bn (£32.4bn/€36.8bn) funding package providing low-cost loans for the development of fuel-efficient and low-emission vehicles.
Another difference from 1990: the 'Big Three' US domestic car makers – GM, Ford and Chrysler – all have a fighting chance of hitting the new targets.
GM, for example, is planning to stuff its Voltec range-extended hybrid drive system into various other models, including the Cadillac Converj.
Ford's working on 'Leccy vans, a 'leccy version of the 'next Fusion and it also plans to sell its European Fiesta in the US.
Chrysler's pushing ahead with its ENVI electric vehicle project and even developing small cars based on Fiat platforms.
Immediately after the CAFE announcement, Chrysler also announced plans to produce "several production electric vehicle models by 2013".
Washington's yet to decide exactly how fuel consumption and emissions figures will to be calculated for plug-in and range-extended hybrids. Many are capable of electric-only travel for part of the journey, meaning zero emission and zero consumption at point of use for some parts of each journey.
It's also worth remembering that CAFE fuel economy figures were issued in terms of those puny little gallons used across the pond, so we've converted them into good old imperial units. ®
Sponsored: Beyond the Data Frontier