Plantronics .Audio 655
First certified headset for next-gen Skype audio
Review Skype's voice-over-IP software has emerged as a major challenger to traditional telephone companies in the last couple of years, especially when it comes to saving money on expensive international calls. Now featuring SILK, a new wideband audio codec, Skype has raised its sonic standards and the latest Plantronics headset, the.Audio 655, supports this technology.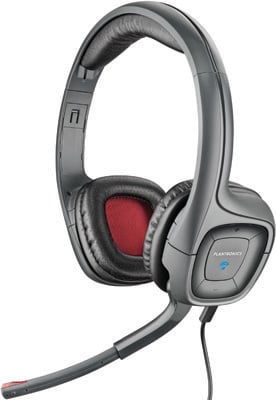 Sound judgement? Plantronics' .Audio 655 is a USB-only affair
Besides Bluetooth headsets, Plantronics also makes a number of headsets designed specifically for using Skype on a personal computer. Successor to the company's popular 625 model the .Audio 655 is touted as the first headset certified for use with SILK, which is featured on 4.0 version of Skype for Windows, but not yet on the current Mac version.
Considering most personal computers are sold with either built-in or bundled microphones and speakers, so you don't really need to buy any extra kit in order to use Skype on your Mac or PC. Even so, it's still worth buying a decent headset if you use Skype a lot – if only to ensure you've something that's comfortable to wear.
At £40, the .Audio 655 is more expensive than the £25 for its predecessor, the 625. However, the 625 was really just designed for voice calls, the .Audio 655 is intended as a more general-purpose headset, also suitable for playing games and listening to music.
The 655 looks like a fairly conventional over-ear headset. The headband is adjustable and padded for a comfortable fit, and the earpieces are softly padded too. We found the headset light and comfortable to wear and, although the headset doesn't provide active noise-cancellation features, it does a decent job of blocking out background noise – in fact we almost missed a phone call while testing the headset, as we couldn't hear the phone ringing in the next room.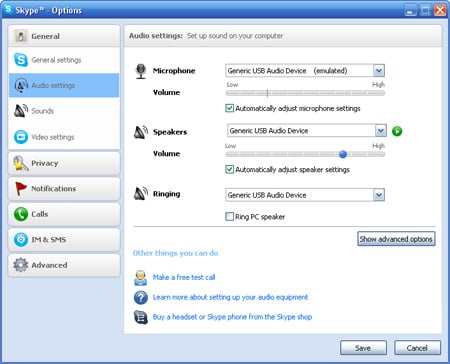 Get set: functions as a generic USB audio device on Macs and PCs
The microphone boom is attached to the left earpiece, and you can rotate the boom up and down, as well as adjusting the length of the boom to position the mic right by your mouth. One handy little feature is that the microphone is automatically muted when you twist it upwards, so you don't need to clamp your hand over the microphone when you want to stop people hearing your voice. The left earpiece also has two buttons on it that allow you to quickly adjust the volume when you're making a call or listening to music.