Next-gen e-book readers to slim down
Fatty Kindle already desperately unfashionable
Within weeks of Amazon's announcement that its Kindle e-book reader was supersizing to focus on documents and textbooks, two companies have announced cut-down e-book readers better suited to beach reading than perusing the Wall Street Journal.
British company C*oler Books [sic] will be launching their Cool-er reader on 27 May, while French CyBook has revealed its intention to launch the CyBook Opus in June this year, both devices offering e-ink displays but little else in packages designed to be more portable than ever.
C*oler's device is a diminutive 183 x 117mm and a shade over 10mm thick, which compares to the Kindle's current 203 x 135mm with similar thickness though both devices have the same sized screen. The Cool-er is considerably cheaper than the Kindle, though if you're in the US* you can pick up an old-model Kindle for a price comparable to the £200 C*oler is asking. The Sony Reader is marginally fatter and shorter for slightly more money (£260), but similarly bereft of features.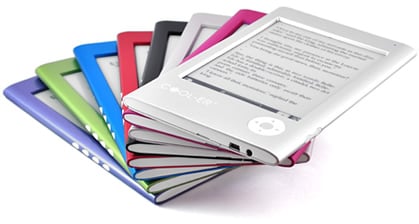 While Amazon's Kindle has a keyboard, speakers and a 3G telephone built into it, and even Sony's reader will happily play back MP3s, the next-generation e-book readers are just that - designed to read books and PDF documents, and do nothing else.
CyBooks' newly announced Opus boasts a higher resolution (200dpi) and one-handed operation, as well as being "pocket sized", rather than offering text-to-speech, magazine subscriptions or any of the accompanying fluff. We don't know what that's going to cost, though, nor precisely how big the containing pocket needs to be as yet.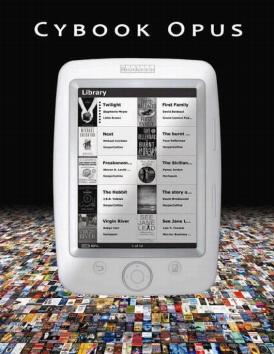 We've said before that it makes sense to split e-book readers into larger devices aimed at document reading and smaller screens more suited to in-bed consumption, with the latter category having no need for a touch screens or keyboards. But while an enthusiast might shell out £400 for a Linux-based Wi-Fi e-ink tablet like the iRex, it remains to be seen if a holidaymaker will pay £200 to get at the core functionality. ®
*The Kindle is tied to Sprint's mobile phone network, so won't work outside the USA for the foreseeable future.