The ROI on hosted solutions
Three papers get onto the cloud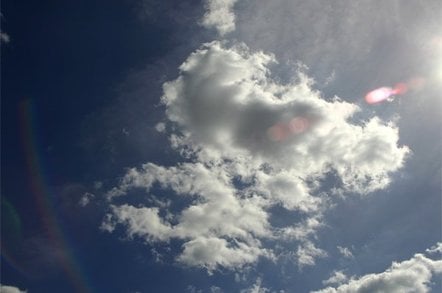 How many companies can buy bandwidth as cheaply as Amazon, say, can sell it? Or source servers as cheaply as Yahoo!, or can build data centres in energy-cheap places, like Microsoft? Then again, how many companies would store mission critical data on Amazon's EC2, or sensitive data in Google Apps? C'mon guys, we're not particularly paranoid, but Google gets everywhere.
World+publishing dog may be talking up software as a service and cloud computing, but the reality still for most large organisations is that they prefer to take the management pain than have their data living on someone else's servers, accessible only over the internet. (OK, so Salesforce.com customers are a partial exception). This is why IT vendors usually push hardest at small and medium-sized companies to sign up for hosted apps.
How many small companies would willing set-up and run their own Exchange server, if they could get someone else to do it and for less money? Indeed for many, a hosted apps provide may be able to offer better security than they can provide themselves. That, at any rate is a theme of this week's collection of white papers from the Reg Library, which are all about hosted applications.
This Microsoft white paper majors on the ROI on hosted versions of Dynamics CRM and MS Exchange. Oddly enough, Microsoft maintains a channel sales policy for hosted apps, which seems a little perverse given that it can build, operate and maintain data centres far more cheaply than any of its dealers. However, software as a service remains small potatoes for the company, which cites an IDC forecast that $2.4bn of Microsoft software will be delivered via hosted solutions over the next three years.
Microsoft is an unusual company to be touting hosted solutions - simpler licensing and predictable per seat pricing makes for a less profitable sale than the traditional EULA gig. The received wisdom is that Microsoft, in common with Oracle, is keen to drag its heels as much as possible on software as a service. However, the decision for many small companies is not between Microsoft licences and hosted apps, but between Microsoft software and hosted apps from Google, or open source alternatives. When Microsoft Office is widely available as hosted solution, and when Microsoft hosts the solutions itself, then we will know that software as a service has truly arrived.
The growing email archiving dilemma
Until reading this paper from Mimecast, a supplier of email management over the cloud, we were unaware of any dilemma surrounding email archiving. But sure enough regulatory and retrieval issues and average volume growth of 30 per cent a year for email archives means that enterprises have got issues. Mimecast argues that many companies use outdated cost benefit assumptions to reject software as a service based email management.solutions. According to the company, The emergence of eDiscovery and recent legal judgments have put "critical business importance on search speed and accuracy, which are difficult to achieve without integrated, purpose-built archiving solutions".
We are not sure if we accept the argument, but it is a well argued case. As a bonus, this paper itemises an 11-point checklist for companies to consider in controlling their email mountains.
Offloading malware protection to the cloud
In every cloud there is a silver lining. Especially where IT security companies are concerned. Cloud computing, and its closely related siblings Web 2.0 and software as a service, offer new back doors for hackers, and new things for security vendors to frighten us with.
So it may seem counter-intuitive that Trend Micro is inviting customers to offload some of their malware protection on to its cloud- based hosted security service. The aim is to to reduce endpoint resource consumption, network bandwidth consumption, malware, and overall risk, according to this short paper from IDC, which cautiously welcomes Trend's hybrid approach.
"Unwanted content (malware, spam, bad web sites, unproductive information, etc.) never hits the customer's gateway. Therefore, the customer is not responsible for content it never received. This reduces risk, cuts bandwidth requirements, lowers archiving requirement, and limits eDiscovery activities." ®
Sponsored: Detecting cyber attacks as a small to medium business