Herschel and Planck safely away
Euro twin 'scope launch runs on rails
The European Space Agency's Herschel and Planck space telescopes safely blasted off this afternoon at 13:12 GMT from the ESA spaceport in French Guiana.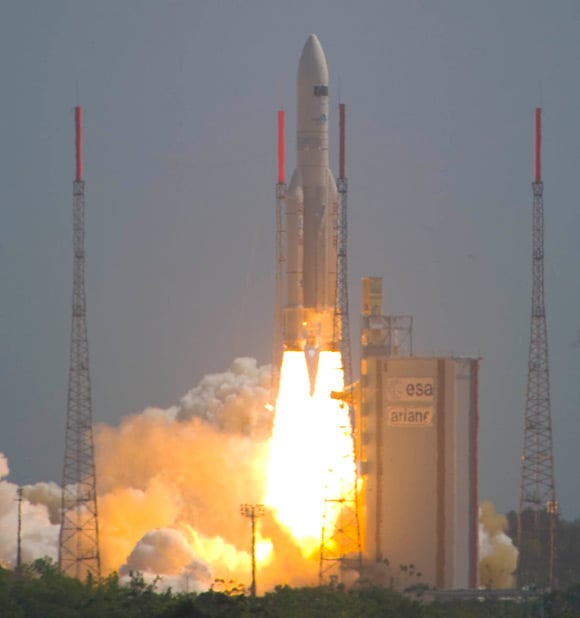 ESA reports: "Herschel, the upper passenger, was the first to separate from the upper stage of the Ariane 5 at 13:37 GMT at an altitude of about 1,140km over the east coast of Africa. About 1.5 minutes later, the ... support structure that enclosed Planck came off and separated.
"It was followed by Planck at 13:40 GMT at an altitude of about 1,700km slightly East of the east coast of Africa."
At 13:49 GMT, ESA confirmed its New Norcia tracking station in Western Australia had received the first signals from both spacecraft.
ESA elaborates: "The mission control teams will continue to receive telemetry from Herschel via New Norcia, and for Planck via ESA's antenna at Perth, also in Australia. Spacecraft Operations Engineers at the Mission Control Centre will use these data to assess the overall health of the satellites after launch.
"Almost immediately after telemetry reception starts, engineers will determine the actual trajectory of each satellite so that it can be fine-tuned for planned trajectory correction manoeuvres."
ESA's Director General, Jean-Jacques Dordain, enthused: "This dual launch is the crowning of some 20 years of hard work for the scientists who imagined these missions, the engineers who designed these satellites, the firms that built them and the ESA staff who coordinated all these efforts.
"This marvellous work could never have been accomplished without the commitment of all of ESA's Member States, which have consistently ensured that Space Science remains the backbone of our activities. An outstanding Space Science programme shaped by scientific communities across Europe, driving innovation, and embedding new technologies for the benefit of all citizens."
The 'scopes are now en route to Lagrangian point L2, around 1.5 million km from Earth. Herschel is tasked with probing the cosmos with its infrared telescope - the largest ever put into space - while Planck's mission is to study the Cosmic Microwave Background.
David Southwood, ESA Director of Science and Robotic Exploration, said: "With Herschel we can resume the pioneering work undertaken with ISO, ESA's first infrared space observatory operating in the second half of the 90s, and we are building upon the experience gained to date by the world wide scientific community in the field of infrared astronomy."
He added: "Planck is ESA's first mission dedicated to the study of relic radiation from the Big Bang, designed to continue the marvellous work undertaken over the last 20 years by Russia's Relikt, and NASA's COBE and WMAP satellites.
"With Planck, we are pushing the boundaries of our knowledge to the very limits of what can be observed according to theory. It is a tremendous technical challenge but helping to bring about a great leap forward in our understanding of the origin and perhaps the fate of our Universe will be a tremendous reward too."
Herschel and Planck are due to start their observations in about two months. They have associated mission blogs, and you can keep tabs on Herschel here and Planck here. The ESA launch special is here. ®