Nvidia punts 3D into Europe
The GeForce 3D Vision kit for games, films and photos
Nvidia has finally made its 3D PC kit available to gamers, film fans and photo fanatics across northern Europe.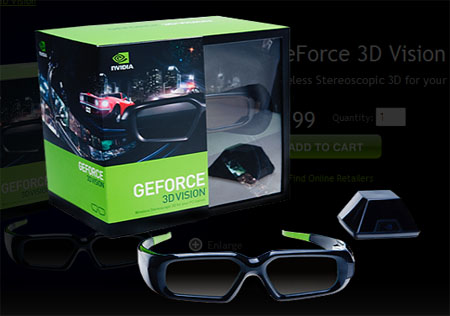 Nvidia's kit turns games, films and photos 3D
The firm's promised that its GeForce 3D Vision kit – first seen at CES back in January – will automatically transform 2D content into a "crystal-clear... flicker-free... full stereoscopic 3D" experience.
Inside the basic kit you'll find a pair of wireless active shutter glasses, which communicate with an IR emitter that plugs into your PC. The Nvidia software required to facilitate 3D gaming, movies or snaps is, of course, also in the box.
It's worth noting that Nvidia's 3D Vision kit will only work with monitors running at 120Hz or faster. So the firm's teamed up with Samsung to create a £399/€479 ($544) bundle kit that includes a Samsung SyncMaster 2233RZ 120Hz LCD monitor.
If you don't need a new screen then Nvidia's GeForce 3D Vision kit by itself is also available now, priced at €159 (£142/$216). ®