HDS adds CommVault dedupe
Heading towards unified storage arrays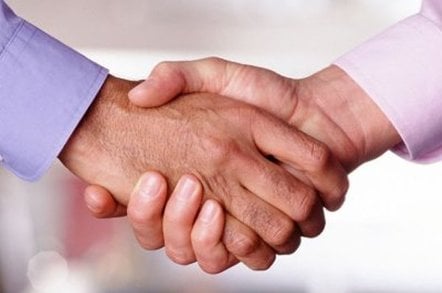 Hitachi Data Systems is oem'ing CommVault's Simpana to provide deduplicated data protection services, and Simpana has passed the 10,000 customer mark.
HDS has announced its Data Protection Suite 8.0 and said it's powered by CommVault. The product uses Simpana 8.0 technology and is the latest event in the HDS CommVault OEM relationship.
Simpana 8.0 is a data protection and management suite which can provide access to a virtual pool of back, archive and online data on separate systems and also deduplicate data at sub-file level in a backup store. Dell is selling it as an option with its PowerVault DL2000 integrated backup appliance, alongside an across-the storage board agreement with Quantum to sell that company's DXi deduplication technology.
CommVault has extended Simpana so that it writes deduplicated data to tape.
HDS says that with the new product it can protect VMware and Hyper-V server environments and support remote and branch offices. A customer's compliance needs will be better met because the data management aspects of Simpana bring disparate data stores into a single domain for indexing, searching and eDiscovery.
The Simpana restore functions and HDS replication functions mean that a tape-free future can be entertained if customers wish.
Eric-Jan Schmidt, a corporate marketing VP at HDS, provided the obvious quote: "By combining industry leading Hitachi storage systems and CommVault's sophisticated data management software, we continue to build upon the worldwide success of our partnership to deliver a fully unified solution to our customers."
Standing back a moment we can see he's saying that an HDS controller and storage array can function as an online store for file and block data, a virtualising front end for third-party storage arrays, and as a vault for backup and archive data. In other words, there is no need for HDS customers to look at specific deduplicating storage arrays from other suppliers as HDS can do it all and provide "a fully unified solution".
This is a coming marketing battleground for storage array vendors who will be increasingly saying to customers that they can get all the storage array functionality they want from a mainstream storage vendor without having to go to, as they might say, one trick pony specialists, such as Data Domain for dedupe or Permabit for archiving.
CommVault's marketing and business development VP, Dave West, banged on this drum too, when he said: "With the new features and backup and recovery performance enhancements in CommVault Simpana 8, Hitachi Data Protection Suite 8.0 can help IT professionals reduce the amount of data under management, address the growing cost of storage management and simplify the operations of their storage environments."
This is another canned quote, but it too has the same underlying significance. The combined HDS and CommVault pitch is that one storage array vendor and one integrated and unified product set means simpler storage operations and management, leading to lower costs. Expect EMC and NetApp to be making the same point when they talk to customers.
HDS parent Hitachi has reported results for its first 2009 quarter showing that HDS probably gained market share over EMC in the quarter. ®
Sponsored: Becoming a Pragmatic Security Leader