Electric racer hits the track
Solar cells and lithium-ion battery packs
Leccy Tech Swiss outfit Green GT whipped the dust sheets off its leccy racer at the recent Swiss Show of Renewable Energy and New Technologies.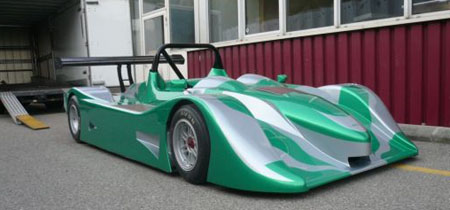 Green GT's leccy racer: will do 170mph
Called GreenGT, the FIA-specification track car has a carbon fibre chassis and fibreglass body that's home to two water-cooled 100kW electric motors.
Juice for the motors comes from a pair of 30kWh lithium-ion battery packs and, during peak output, the pair apparently deliver 1475ft-lb of torque to the racer's rear wheels.
The entire weight of what's possibly the world's quietest track machine is said to be 860kg (1896lb). This puts the GreenGT on a similar standing with more conventionally powered machines, such as Radical's SR9 LMP2 racer.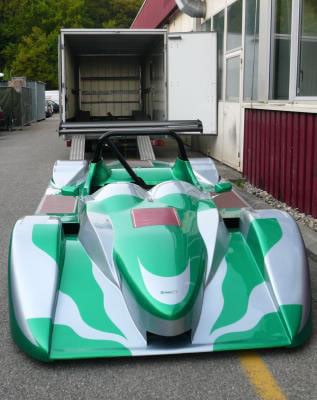 Two 30kWh lithium-ion battery packs drive the rear wheels
GreenGT's upper bodywork surfaces are dotted with flexible solar panel - manufactured by firm Flexcell – that power the car's 12V system, including its electronics and dashboard.
Presumably the photovoltaic cells will be hooked into some sort of battery, as having his car's electronics die the moment a cloud appears overhead seems like a drawback that even Fangio would be pushed to overcome.
Set to make its track debut later this month, engineers are confident that the GreenGT will achieve a top speed in excess of 170mph and pull off a 0-60mph dash in well under four seconds.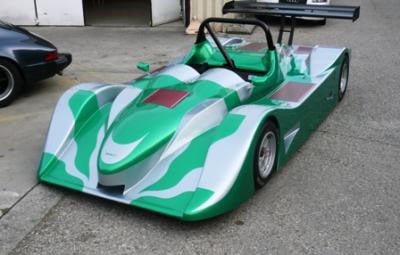 0-60mph in four seconds
The firm's inked plans to build between 20 and 25 of the leccy racers in 2009, with a view to creating a single type European racing series next year. Each race could last up to 45 minutes, depending on track test results.
If all goes well then a hydrogen fuel cell-powered version of the GreenGT will even be entered into the Le Mans Prototype – LMP2 - racing series.
Not content with building just an electric racer, Green GT's also developed solar-powered tyre warmers for the OAK Racing Team Mazda LMS and pasted solar panel sheets onto the team's transport truck.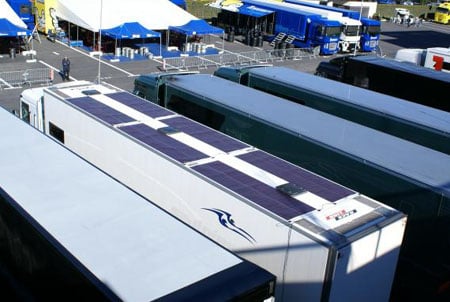 Green GT's put solar cells on OAK Racing Team Mazda LMS' truck
By using solar power in addition to a buffering battery pack in the team truck, Green GT reckons it can save over ten tonnes of CO2 during the course of a racing season. ®