Sapphire lauds 'first' 1GHz-plus AMD GPU
High-speed card in a natty packaging
Graphics card specialist Sapphire has rolled out what it reckons is the first board to boast a gigahertz-clocked GPU - from AMD, at any rate.
The Atomic HD 4890 runs its graphics engine at 1050MHz. To maintain the 'giga' theme, it's got 1GB of GDDR 5 on board too, connected over 256-bit bus.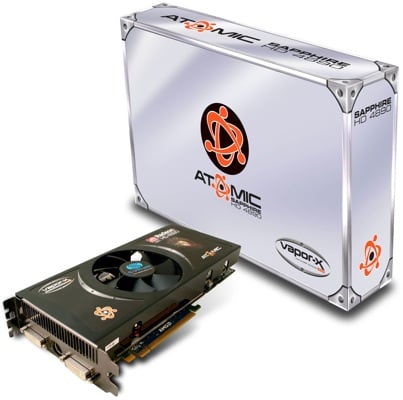 Sapphire's Atomic HD 4890: comes in a fancy box
To get the clock speed past 1GHz, Sapphire has equipped the card with its Vapor-X cooling mechanism, a technology last seen on the supplier's Vapor-X HD 4850.
The card has two CrossFireX connectors for multi-GPU rendering, with the output fed through its TV-out socket or two DVI ports.
To cap it off for the graphics card buff who has to have everything, the Atomic HD 4890 comes in a natty metal briefcase.
The limited edition product should hit e-stores in a week or so, Sapphire said. It couldn't say how much the Atomic will cost, but it's $299 (£197/€221) in the US. ®
Sponsored: What next after Netezza?