Kettering to London: 18 hours by rail, bus and pack mule
East Midlands Trains offers bank holiday overnight epic
Passengers who fancy catching a train on 23 May from Kettering to London St Pancras are advised to pack a sleeping bag and some heavy reading material because the normally one-hour-ish trip will take no less than 18 hours during which passengers will enjoy "seven changes, five bus journeys and a trip on the London Underground" - not to mention an overnight stay in Milton Keynes.
The schedule for the eleborate 295-mile escape from the Northamptonshire town - currently the only way to head south to the Smoke by rail on the Saturday in question - is available in all its glory down at the East Midlands Trains' website: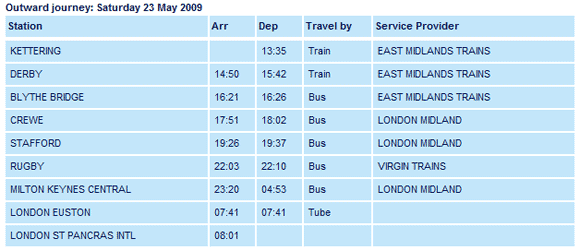 The cost of the epic slog is between £40.50 and £67 but doesn't include accommodation in Milton Keynes, the Telegraph notes. Kettering local and rail regular Danny Coles said: "This is completely crazy, you could probably cycle down to London quicker than that."
The reason for this madness is, as you've probably guessed, the traditional bank holiday weekend engineering works. Mercifully, East Midlands Trains said it was laying on an alternative service from Kettering via Leicester and Peterborough (three hours, two minutes), but that tickets weren't yet available. ®
Sponsored: Quit your addiction to storage