Kent council plans giant 'Hollywood' erection
Welcome to MEDWAY
Medway Council has devised a cunning plan to raise the profile of its prime Kent riverside location - by erecting a giant Hollywood-style MEDWAY sign on a local hillside.
In preparation for the £12,000 Californication scheme, the council recently spunked £2k sticking up a big "E", which was subsequently dismantled because it "has yet to achieve funding or planning consent", as the Telegraph explains.
Unsuprisingly, the plan has not gone down well with the locals. Sandy Peters from Borstal, near Rochester, opined: "I think it's a big waste. When everyone's trying to save and be a little bit thrifty our council is spending thousands of pounds on trying to be Hollywood.
"We'll be the laughing stock of the rest of the country. Anyone who has ever been here will know it's nothing like the glitz and glamour of Hollywood."
Chatham builder David Abraham decried: "I think our council must be living in cloud cuckoo land to think this is a worthwhile thing to do."
A spokesman for the powers that be, however, defended the plan, explaining: "While people are familiar with the five towns* very few outside the south-east know where Medway is. One of the challenges facing the council is to attract inward investment to Medway. The Highways Agency has said it will not include Medway on its M2 motorway signage."
He concluded: "Before deciding whether or not to pursue the idea this test using scaffolding and polyboard was carried out. If the project was thought viable the council would have to seek planning permission in the usual way. At this stage no decision has been taken."
Well, we reckon the council should scrub the MEDWAY plan, and consider this alternative: If it really wants to get punters to turn off the M2 motorway close to the Medway, and given the real Hollywood sign originally read "Hollywoodland", why not consider an enormous "SNODLAND" sign in honour of Kent's most deliciously-named town.
Here's our artist's impression of the spectacular result, seen overlooking the M2 Medway crossing: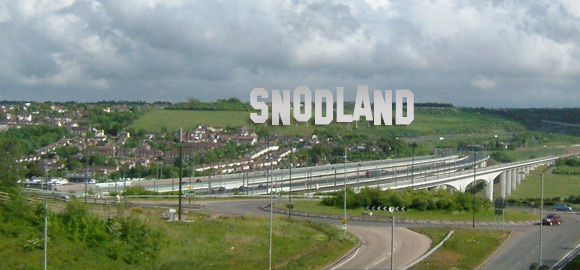 Yeah, we know Snodland's not actually in Medway, but it works for us. ®
Bootnote
*Chatham, Gillingham, Rainham, Rochester and Strood.
Sponsored: Detecting cyber attacks as a small to medium business