AMD ATI Radeon HD 4770 40nm GPU
Can a budget graphics card really be this fast?
We generally expect that the first graphics card to land on our doormat will be a reference design that is swiftly followed by a wave of identical models that are only distinguished by the manufacturer's logo on the cooler. The 4770 is different in that the only card to use the blower design is the one sent by AMD. Nodels from Albatron, Asus, HIS, MSI and Sapphire all use a conventional cooler that circulates air inside the case of your PC. This then is the true reference design while the blower is the odd one out.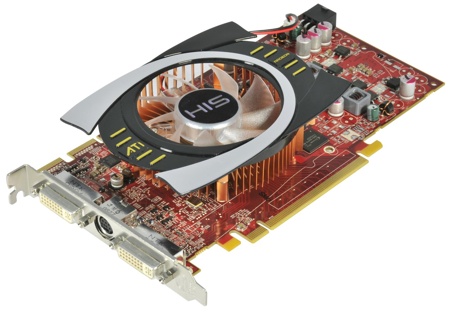 The true AMD reference design, as exhibited by HIS
Although the bracket of the reference design is a single-slot job, the cooler is quite tall so you need two slots to accommodate either design. We are confident that the reference cooler is cheaper than the blower which is why we doubt you'll ever see the more expensive cooling option used on this budget graphics card. For what it's worth, our figures show that the blower draws a tad more power than the reference cooler and that it keeps the GPU at 50°C compared to 60°C degrees with the reference design.
You may read other reviews that refer to the way that the blower will spin up momentarily with a burst of noise. This is true, but it doesn't apply to the reference cooler, which is lovely and quiet.
We tested the blower 4770 alongside an HIS 4770 reference design on a Core i7 920 system that was built around an Intel DX58SO motherboard with an Intel X25-M SSD running Windows Vista Ultimate. The results were impressive. At standard clock speeds, the HD 4770 is consistently ten per cent faster than the 4830 which gives you an extra three frames per second in Far Cry 2 at Full HD resolution.
Power Draw Results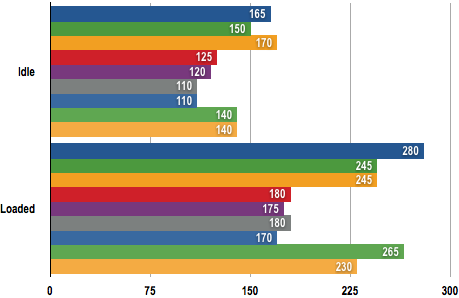 Power draw in Watts (W)

Overclocking allowed us to raise the core and memory speed by a true 50MHz from 750MHz/3200MHz to 800MHz/3400MHz which increased frame rates by another 2f/s. That's the same clock speeds that we expect to see from the Asus 4770 TOP when it's launched with a premium on the price of £10.
Sponsored: Becoming a Pragmatic Security Leader