AMD ATI Radeon HD 4770 40nm GPU
Can a budget graphics card really be this fast?
The clock speed of the new core has been increased by a huge amount from the 4830's 575MHz to 750MHz in the 4770, and the effective memory speed has also made a big leap as AMD has specified GDDR 5 instead of GDDR 3. To date we have only seen GDDR 5 used in the 4870 and 4890 so it would seem that this is going to be a common feature in graphics cards from the red team in future.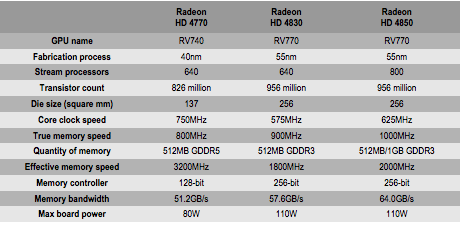 The change from GDDR 3 to GDDR 5 means that the 800MHz memory used with the 4770 has an effective speed of 3200Hz. Unfortunately, AMD has undone some of this good work by specifying a 128-bit memory controller instead of the 256-bit controller we would hope to see, so the memory bandwidth is 51.2GB/s, compared to 57.6GB/s with the older 4830. As soon as graphics cards manufacturers start to bring out their own versions of the 4770, you can be sure that memory speeds will increase so there will be little to choose between the memory bandwidth of the 4830 and the 4770.
AMD has also managed to reduce the maximum power draw, taking the 4770 to 80W, a big step down from the 4830's figure of 110W. Those are the maximum theoretical power-draw values and they don't quite match up with our experience. We found that the 4770 draws 5W more than the 4830 when idling in the Windows desktop. Under load, the 4770 either draws the same amount of power as the 4830 or 10W less, depending on the design of the graphics card.
It's annoying to see that AMD still feels that it necessary to adopt a six-pin power connector when you would hope that the 4770 would be able to draw sufficient power through the PCI Express slot.
We mentioned that the form-factor of the HD 4770 can affect the power consumption, depending on the type of cooling that's employed.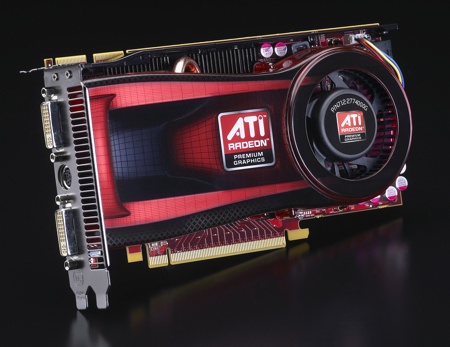 AMD's reference 4770: odd-one-out dual-slot cooler
The graphics card we were sent by AMD uses a dual-slot blower design that looks similar to the 4850 and 4870, although the 4770 is significantly shorter: 210mm to the 235mm for the others.