Zen and the Art of Laptop Battery Maintenance
Keep your notebook or netbook's power pack in tune
At 25°C, you're looking at a 20 per cent capacity loss after one year. Since your working environment is likely to be less than 25°C, the reduction will you see will be a little less than that, and by making sure the battery is used regularly and evenly, you should be able to delay the point at which the battery has only 80 per cent of its starting capacity to 18 months or more.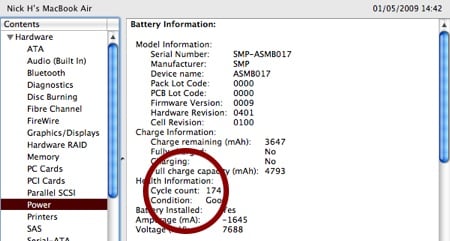 Cycle logical: check your battery's recharge count in Mac OS X
Hot-running laptops will have the reverse effect, so if your notebook's like that, consider buying a cooling stand to help draw heat away from the machine and battery. Don't keep your laptop in a hot car cabin, or in direct sunlight.
If your laptop's going to remain unused for a long period, keep it cool. Never freeze it, but sticking the battery in the fridge, for example, will prolong its life. Battery manufacturers recommend storing batteries with a charge level of 40-50 per cent.
If you do refrigerate a battery, don't start using it as soon as you take it out again. Leave it several hours to warm up to room temperature first. Rapid warming could cause condensation, and you don't want moisture forming inside your battery pack or laptop.
If you have a spare battery pack handy, keep it cool and charged to 40-50 per cent of its maximum capacity until you're ready to take it on your travels. At that point, charge it up and use it as often as you use the other battery, so they both undergo regular charge and discharge cycles. ®
Charge Cycles Explained
Battery longevity - how long the battery lasts rather than how long it'll power a device from a full charge - is typically measured in cycles, with one cycle being a discharge from full to empty.
This doesn't need to happen all at once. A cycle is reached when 100 per cent of a battery's potential capacity has been taken, even if it's charged up in the meantime. If you drain a battery by half one day, charge it back up, take 25 per cent the next day, charge it up again then drain it by a quarter on the third day, that's one cycle: 50 per cent + 25 per cent + 25 per cent.
That might suggest the best way to eke out cycles isn't to discharge the battery too much, but don't forget, lithium-based batteries like to be used, not left on 100 per cent all the time.
Laptop makers typically say a machine's battery capacity will have declined to 80 per cent of its original capacity after 300-odd cycles.
Sponsored: Becoming a Pragmatic Security Leader