Zen and the Art of Laptop Battery Maintenance
Keep your notebook or netbook's power pack in tune
Laptop batteries won't, of course, give you two days of usage, so it's not necessarily practical to follow that charge-discharge-recharge pattern exactly, but you can get close. Make sure you regularly use your laptop on battery power. Don't work on it with it always plugged into the mains.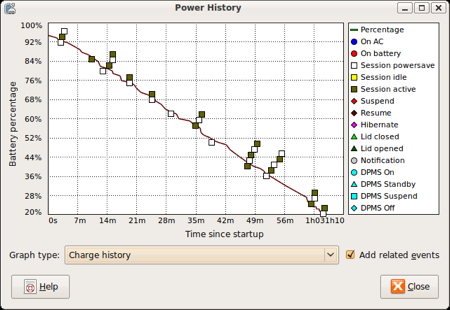 Not a well-tended battery
If you do use the mains as your primary power source - as you might well if the notebook's your main machine - at least make sure you use your laptop on battery power a couple of times a week. This is what we didn't do with the netbook. It has stayed attached to its AC adaptor for most of its life, with the battery barely being used.
The connected battery will charge to 100 per cent and then the battery pack's electronics will ensure the cells receive no further charge. At this point, the biggest threat to the battery is heat from the laptop's internals. Make sure your laptop's vents don't become covered. Beyond the heat generated by its operation, a laptop can safely be left connected to the mains.
There's no harm in removing the battery from a laptop that's going to stay connected to the mains for a while. Just make a note of the optimum battery storage conditions - more on this later - and don't inadvertently yank the power cable. With no battery, there's no back-up for your laptop's memory.
Apple machines are an exception, and others may be too: they auto-underclock the processor when the battery's removed, so despite being connected to the mains, they won't run at full strength. We think that's daft, but that's Apple for you.
When you use your laptop on battery power, make sure its charge drops to at least 80 per cent. But don't let it drop to zero. Depending on which operating system you use and how its power settings are configured, you'll get a low-power warning first and, later, your machine will sleep, hibernate or shut down.
At this point, your battery should still be charged to 5-10 per cent of its capacity, and you should now charge it, whether you want to continue working or not. If you're not going to be able to do so for some time, make sure you've saved your work and your laptop's shut down or hibernating rather than sleeping. These two modes turn the laptop off whereas sleeping just keeps it ticking over, but power is still being drained and you run the risk of emptying the battery.
Completely draining the battery is a no-no. Battery manufacturers and laptop makers say that it's a good idea to drain the battery as far as the laptop will allow every so often and to then charge fully in order to synchronise the various capacity monitors within the power pack and the laptop. That ensures that your capacity read-outs are as accurate as they can be.
There seems to be a consensus that daily-use laptops don't really need this, and certainly not on even a monthly basis. Occasional-use laptops, on the other hand, may benefit.
Eking out the charge while your using your computer on battery power is simply a matter of disabling Bluetooth and Wi-Fi if you don't need them, making sure your system spins down the hard drive when it's not required, and - perhaps best of all - dimming the screen's backlight.
How temperature affects a battery's capacity decline
Battery capacity after one year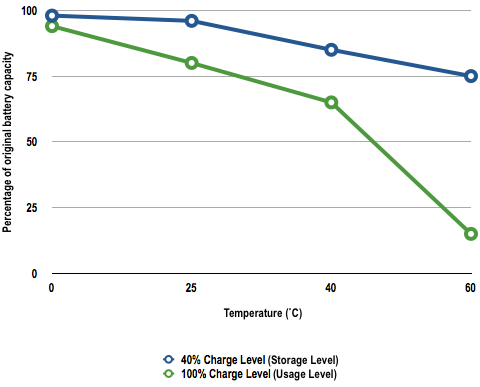 Source: Battery University
If running to empty or never discharging at all are to be avoided, high temperatures are right out. Batteries' inevitable capacity decline can be slowed by keeping the battery cool.
According to website Battery University, a battery kept full will see its capacity drop by six per cent after a year if it's kept at freezing point. Kept at 60°C, however, the same battery will lose 40 per cent of its capacity to hold charge after just three months.
Sponsored: Becoming a Pragmatic Security Leader