Toshiba Camileo P30
Not quite Full HD, but close
Review The pocket-sized Flip kickstarted a trend towards a new type of ultra-compact camcorder when it was launched last year. Since then, a number of other companies have got in on the act as well, and in some cases they've beaten the Flip at its own game.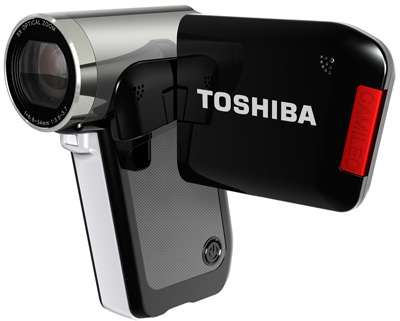 Toshiba's Camileo P30: hard to beat on price and performance
Toshiba's Camileo Pro HD was a good example. Launched last June, it offered higher resolution than the Flip Ultra – 720p HD, compared to the Flip's 640 x 480 – and a wider range of features. The Flip range has been updated since then, with the recently-released Flip Mino HD bringing 720p resolution to the range for the first time. However, Toshiba has just updated the Camileo as well and looks like it intends to stay one step ahead of the Flip.
The new Camileo P30 costs £150 – compared to £170 for the Flip Mino HD – and now offers what Toshiba refers to as 1080p resolution, although this is actually 1440 x 1080 rather than the Full HD resolution of 1920 x 1080. Even so, that still outguns the 720p resolution of the Flip Mino HD, as does its 5x optical zoom and additional 2x digital zoom, which can be increased to 4x at resolutions below 1080p.
However, the P30 only has 128MB of built-in memory, capable of storing about 90 seconds of 1080p video, so you'll need to budget for your own SD memory card to get any real use out of the P30. In contrast, the Flip Mino HD has 4GB of memory that can capture a full hour of 720p video – but no memory card slot, so you can't ever store more than that single hour.
We supplied our own 8GB memory card, which should only cost about £10-15 if you need to buy one. The P30's on-screen display told us that this would allow us to store about two hours and fifteen minutes of 1080p video, or four and a half hours of footage if we dropped to 720p. That should do the trick for most people, especially as the rechargeable lithium-ion battery only lasts for about two hours anyway.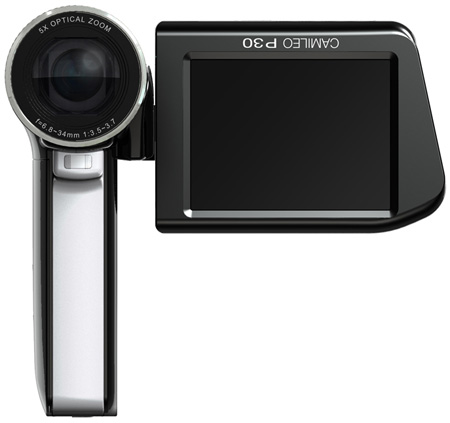 On the cards: supports SD storage capacities up to 32GB
The P30 has a mini-USB port hidden behind a flap on the handle, so you can easily transfer files onto a Mac or PC over USB. It also has HDMI and AV connectors that will allow you to play your video clips on a TV, and we were pleased to see that all the relevant cables were sitting there in the box ready for use.