Top British boffin: Time to ditch the climate consensus
Don't use science to get round politics, says Hulme
No denier
And yet even though the IPCC is an institutional experiment as much as a scientific one – and despite its occupying a position of huge influence in the world - few sociologists seem to be scrutinising its workings. This may in part be due to the fact that action on climate change is widely seen as a progressive goal, says Hulme, and being a generally progressive sort of bunch, social scientists might be reticent to impede proceedings, or to be seen to give succour to right-wing "denialists".
"That's an accusation that has been charged at me, that I'm simply lending ammunition to people who generally are politically conservative, and who want to discredit the basic physics behind climate change."
In pushing to open up climate change debates to non-scientific disciplines, Hulme runs the risk perhaps of attracting accusations of not only "denier", but also of "relativist", which is almost as dirty a word in scientific circles. Hulme's Christian beliefs might be a further invitation to ad hominem responses.
But any attacks that were aimed at him on these grounds would demonstrate his point nicely.
After all, much of the abuse that is hurled across the climate divide comes from those who like to believe that it is they who are dealing in a currency of proper science - bias and ideology is what the opposition does. Hence the vitriol aimed at Bjørn Lomborg over the years.
"It was interesting as to why he received such hate-mail from very well respected academics rather than simply engaging in the arguments," says Hulme. "It became very very heavily and easily personalised, when actually Lomborg's position is an entirely defendable position. I mean, you can disagree with it, and you can find flaws in his argument, but let's find those flaws and let's have a disagreement, rather than suddenly becoming reactionaries overnight. And I think there's too much of that. And it's an interesting question as to why it is that people feel that climate change is somehow is the issue beyond all other issues today that one has to stand on shoulder to shoulder and not allow any chink in because it would allow the powers of darkness to somehow gain the upper hand."
For Hulme, for open debate to be possible, there must be a recognition on all sides that we all bring a host of values, beliefs and influences to the table along with our knowledge, expertise and training.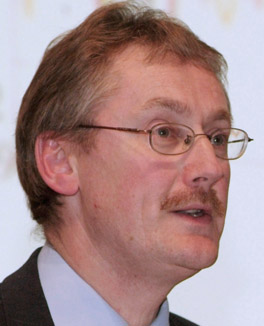 "If, say, Jim Hansen or Fred Singer and I sat down and looked at the same scientific evidence, we would come up with a very different set of proscriptions. Now, why is that? Is it because our scientific training is deficient, and he's seeing more than I'm seeing, or I'm seeing more than he's seeing? I don't think it is. I think actually there's a lot of stuff that's going on here. And that's actually what we have to get down to - to root out, and expose, accept, and work within these broader, deeper sources of disagreement."
"To hide behind the dubious precision of scientific numbers, and not actually expose one's own ideologies or beliefs or values and judgements is undermining both politics and science", says Hulme.
A bigger debate
That his thesis has the potential to draw in and engage disparate climate change factions is suggested by the cover-blurb testimonies from an oil company advisor, a deep ecologist, a sociologist, and an environmental scientist. But Hulme has his work cut out. Even as he spoke to us, President Obama was declaring in his address to the US National Academy Of Sciences: "Under my administration, the days of science taking a back seat to ideology are over".
It's not hard to get labelled a climate change "denier". You don't even have to deny that climate change is real, man-made and a problem. As Bjørn Lomborg, climatologist Patrick Michaels and political scientist Professor Roger Pielke Jr have discovered, you merely have to challenge the orthodox political policy responses.Or, like Climate Audit's Steve McIntyre, dare to scrutinise the statistical workings behind influential climate research papers. If you stray from agreeing with the political prescription, you're an immoral person.
So, how long, we wonder, before Mike Hulme attracts the same accusation? ®
Oops: the "peer reviewed science" waved at the cameras by the Heathrow protesters wasn't even peer reviewed science. It was a report from the Tyndall Centre commissioned by the Friends of the Earth and The Co-operative Bank. See my earlier report here - and the Tyndall report here here [PDF].
Stuart Blackman is a science writer and co-editor of the Climate Resistance blog.
Sponsored: Detecting cyber attacks as a small to medium business