Dell hunting M&A guru
Dude, you're buying an Acer?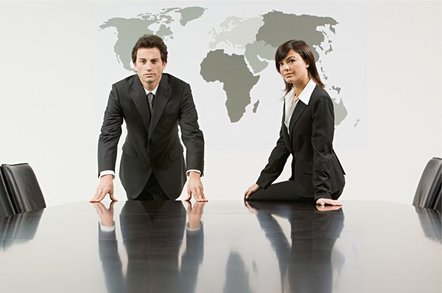 Boy, this sounds like a fun job. The Wall Street Journal is reporting that PC and server maker Dell is looking for a merger and acquisition expert to help it save Michael Dell's reputation spend some of the company's $7bn in net cash on acquisitions to bolster its business.
The WSJ report is a bit thin, with the usual "people briefed on the matter" telling the paper that Dell wants an executive to head up M&A activities. Evidently, this person would report to Dell's chief financial officer, Brian Gladden.
Gladden is no slouch as CFOs go. He has been in the job at Dell for the past year and was formerly president and chief executive officer at GE Plastics (now known as Sabic Innovative Plastics since it was spun out of General Electric) and held numerous management and financial positions in his 20-year career at GE.
But M&A is a specialty - and one that a company like Dell, which has done very few large acquisitions, doesn't have much experience in. Some M&A expertise might be the difference between making a good deal and a bad one, in fact.
Dell just got slammed in Western Europe's PC market, and tongues are wagging about Dell possibly acquiring PC rival Acer to better compete with Hewlett-Packard. Late last week, as this Reuters report details, IT analyst Toni Sacconaghi, of Sanford Bernstein & Co, called for Dell to shell out $5.7bn (a 20 per cent premium over Acer's market capitalization) to buy Acer. "Among the 10 top PC vendors, we believe that a Dell/Acer combination makes the most sense," Sacconaghi said in his report.
Taiwanese PC maker Acer bought Packard Bell back in February 2008 for $48.5m as part of its August 2007 acquisition of U.S. PC maker and direct sales innovator Gateway for $710m. Those deals have certainly helped Acer's market share figures grow, and so has its embrace of netbooks. Acer is now the number three PC maker behind HP and Dell, and it posted a $428.8m profit (up 38 per cent) on sales of $16.65bn (up 15 per cent) in 2008.
In comparison, during the same twelve month period ending in January 2009 (the closest thing to Acer's annual figures), Dell had sales of $61.1bn, but only posted profits of $2.48bn. And in the most recent quarter ended in January (Dell's fiscal fourth quarter), Dell's overall sales fell by 16 per cent to $13.4bn and net income swooned by 48 per cent to $351m after the company took a $277m restructuring charge. (You have to remember that those Dell profits were realized because the company has a relatively high-margin server and storage business. Imagine if Dell just sold PCs).
At this point, not only would Acer help boost Dell's top line, but it would help the company's sales big-time overseas and help out its bottom line even more.
That is, of course, provided Dell wants to do such a deal. The company has enough money - perhaps - to do this and only this deal. Then again, with the state of the IT market and the global economy in general, as Acer and so many other vendors have demonstrated, it is either eat or get eaten out there right now. Dell may not have much of a choice but to take a run at Acer and hope for the best. ®