Virt tool maker Cassatt is going titsup
Tough times of the B in BEA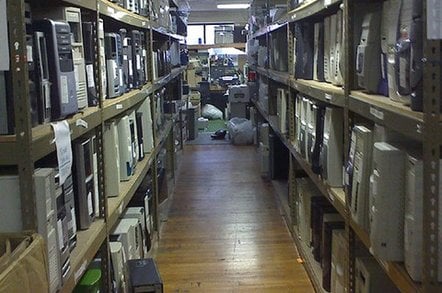 William Coleman - the founder and chief executive officer at server virtualization management tool maker Cassatt - has bared his soul to Forbes magazine and says that the company is in the process of trying to sell itself or shutting down and selling off its assets.
A company spokesperson confirmed the Forbes report and added that Cassatt currently has 55 employees and about a dozen very large customers who have been in deployment for quiet a while.
Coleman is a former hotshot from Sun Microsystems who used to run its systems software operations - notably transforming SunOS into Solaris. He went on to co-found BEA Systems in 1995 (he's the B in BEA) along with Ed Scott and Alfred Chuang. Ironically, BEA is now part of Oracle and it looks like Sun will be before too long as well.
"I have talked with about a dozen companies, all the usual suspects," Coleman told Forbes. "There are one or two possible buyers, and a couple of flickers of interest, but pretty soon I have to think about what's best for my shareholders."
Cassatt, which was founded in 2003, is still operating and supporting its customers while Coleman sorts through his options for the company, which according to the report has burned through nearly $100m in venture capital as it sought to establish itself as a Switzerland of sorts in the management of virtual servers and cloud computing infrastructure.
Coleman was not shy in the Forbes story about assigning blame for Cassatt's failure, saying that the "big guys copied my story" by undercutting Cassatt's value proposition. He added that the even more difficult barrier was getting companies to let go of their current methods for deploying and managing physical and now virtual servers.
Coleman said that it was difficult to get companies to deploy the Cassatt tools beyond a proof of concept or to get them to do anything beyond an energy audit in their data centers. Cassatt has never been particularly open about what its Collage and then Active Response VM management tools cost. That doesn't make Cassatt an exception, but more like the rule among systems management tool makers.
But some of the problem might have to do with the fact that virtualization management tools cost too damned much, just like physical server management tools have for the past 15 years, and with the economy melting like the polar ice caps, maybe customers have other issues they are wrestling with.
What seems clear is that Warbug Pincus and New Enterprise Associates, the two VCs backing Cassatt, have run out of patience, and if Sun Microsystems had not made such a mess itself, Coleman would have already sold Cassatt to Sun a few months back. Perhaps Oracle has some spare change laying around to do a deal? Chief executive officer Larry Ellison seems to be happy to buy up anything Microsoft and IBM don't already control. ®
Sponsored: Webcast: Why you need managed detection and response