Sheep ad not cruel, bleats Samsung
Telly maker thinks PETA's claims are plain baa-my
Samsung has shorn off criticism from animal rights group PETA that its latest TV advert is cruel to sheep.
Can't see the video? Download Flash Player from Adobe.com
The ad for Samsung LED TVs saw sheep fitted with nets of "Smart LEDs" – as used in the TVs – and then herded around a field, in the usual way.
But PETA's Erika Davis wrote to Samsung's top sheepdog, Chief Executive In-Soo Kim, to complain that "tormenting, harassing and scaring sheep to promote a product is unacceptable".
She also claimed that the woolly wonders are… ahem… "sentient, intelligent and complex" animals.
However, Samsung rejected Davis' claims and said that because the film was "made both starring, and in consultation with, professional shepherds" the advert was "carried out with the animal's welfare foremost in our minds".
Samsung also added the opinion of one of the advert's shepherds, Bernard Llewellyn, to the letter. He said that because sheep are his livelihood "only a total idiot would put their animals under any stress".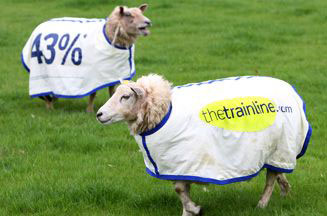 TheTrainLine.com has also used sheep in a new advert
Image courtesy of Marketing Magazine
If PETA's looking for another fight, then it may also like to know that website TheTrainLine.com recently shot a sheepish ad of its own.
The company turned sheep into living billboards by making them to wear promotional jackets featuring details of train ticket price savings to be had through its website.
Last year, PETA also designed a gory cooking videogame intended to shame the Nintendo DS Cooking Mama videogame series, which it claimed is too meat focused. ®