Toshiba Tecra M10 14in notebook
Modern internals, old-fashioned looks
Review Some manufacturers, like Dell, believe laptop users, even supposedly non-frivolous business folk, prefer svelte, stylish notebooks. Not so Toshiba, at least if the the Tecra M10 is anything to go by.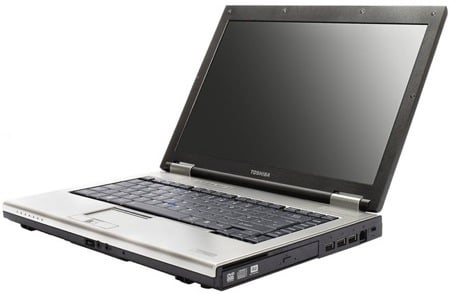 Toshiba's Tecra M10: the laptop that time forgot?
Carry one around, and anyone who sees it will think you've been nursing the machine since the 1990s. This block of a box is more than an inch and a half thick - the lid alone accounts for 11mm of the machine's thickness - and kitted out in a retro-style matte black and metallic dark grey colour scheme.
Chunky here weighs at least 2.44kg and measures 336.8 x 245.0 x 36.4-38.4mm.
The laptop that time forgot? Well this is the first notebook we've seen for quite some time with a serial port. We wonder why Tosh didn't go the whole hog and stick a parallel port on it too. Integrated trackball?
For all its old-style outer casing, inside, the M10 is bang up to date. It's based on Intel's Centrino 2 vPro platform, which means the review unit, the M10-10I, packs a decent, 2.53GHz Core 2 Duo processor, the T9400, backed by 3GB of 800MHz DDR 2 memory.
One of the M10's four USB ports doubles up as an eSata connector, so the machine's well able to take advantage of the latest in external storage technology. Within its capacious casing, it has a standard 2.5in, 5400rpm Sata hard drive of 250GB capacity and a multi-format DVD rewriter.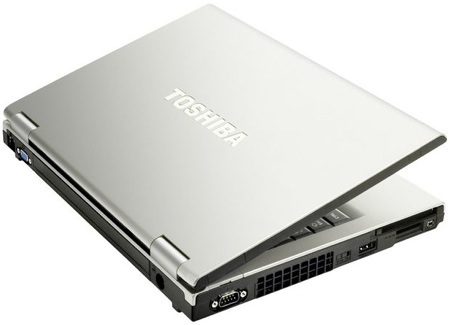 IT department-friendly Centrino vPro tech included
The Centrino brand means the M10's 802.11n Wi-Fi is provided by an Intel chip too, and it's the GMA 4500MHD graphics core integrated into the the GM45 chipset that drives the laptop's 14in, 1440 x 900 matte display. Bluetooth is part of the package too.