Orange unpeels UK's 'smallest, lightest' touchscreen talker
The Johnny Vegas
Orange has taken the wraps off what it's claimed is the smallest, lightest and cheapest touchscreen mobile currently available in Blighty.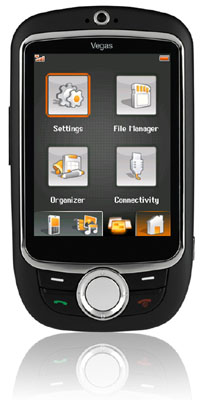 Orange's Vegas: small, light and cheap
Named "Vegas" – presumably after the US city rather than the comedian – the phone measures 52 x 16 x 93mm and weighs in at 84g. Sold as a pay-as-you-go device, Vegas costs a paltry £49 ($71/€54).
Cheap it may be, but - with the credit crunch firmly upon us – what features can you expect from this low-cost touchscreen talker?
For starters, it has a 2.4in touchscreen that'll display images snapped on the rear-mounted 1.3Mp camera. The phone also appears to have a user-facing camera - suggesting that video calls are supported, although Orange hasn't confirmed this.
The phone – which looks remarkably like HTC's Touch – also supports MP3 audio and has a "small but powerful" speaker built into its rear.
Vegas includes an integrated FM radio, is capable of accessing social networking sites such as Facebook, and accepts Micro SD cards of up to 4GB – although one isn't included.
Orange's Vegas handset is available now online in black or pink. ®
HTC Handset Reviews
Touch Diamond 2
Touch 3G
Touch Viva