'Roll-out' e-book reader development hinges 'on funding'
But next-gen Readius is also on the cards
The Readius foldable e-reader sadly never made it to market last year. But manufacturer Polymer Vision says some potentially imminent funding could see mass-production kick off soon.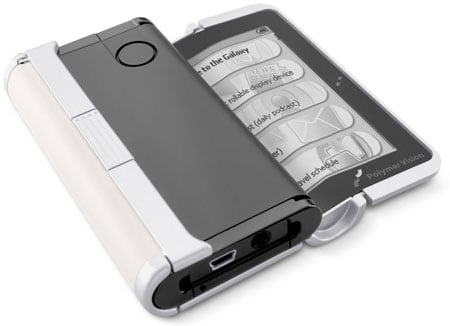 The Readius - or a Readius 2 - could be made if Polymer Vision can get some cash together
Let's refresh our memories. The Readius was first hyped in early 2008. The device was to feature a 5in roll-out, Clingfilm-esque display for viewing e-books. It also includes both tri-band GSM/GPRS and HSDPA 3G connectivity.
But Karl McGoldrick, Polymer Vision's CEO, has since told Wired that he's talking to several investors about funding for production. He's confident of closing a deal within the next few weeks.
"We are ready to go into production but all depends on exactly when the funding comes through," he told the magazine.
But Readius, in its current form, may never make it to market - as Polymer has developed a second-generation model.
McGoldrick was vague about specifications, but revealed that Readius 2 is to be an e-book reader and mobile phone blended into a single device.
It's a mystery how this description would signal a change from the original Readius, which was also supposed to be part mobile phone.
McGoldrick could be hinting at design changes, such as the addition of a screen used solely for navigating around Readius's handset features – something the still-born first-generation model lacked. ®
Sponsored: Minds Mastering Machines - Call for papers now open