It's US vs Europe as world e-car plug standard race nears end
One ring-main to rule them all
'Leccy Tech It looks like the US, Europe and several of the world's major car manufacturers are set to agree on a standard power connector for plug-in e-cars. Or rather two standards: one for the new world, one for the old.
Due to be unveiled at a Hanover technology fair on Monday by German energy company RWE, the Euro plug uses three prongs and will support charging at up to 400V.
According to RWE, the new plug design has already been endorsed by Volkswagen, BMW, Ford, General Motors, Fiat, Toyota and Mitsubishi, along with power companies E.ON, Vattenfall, EDF, Npower, Endesa and Enel. Since RWE is working with Daimler-Benz on its "e-mobility Berlin" project, it's probably safe to assume that Mercedes – and thus Smart – will also be using the new connector.
However, across the Atlantic, a "task force" working on the J1772 EV plug standard will be meeting this week in Detroit during the Society of Automotive Engineers World Congress to continue its efforts to establish that as the industry standard.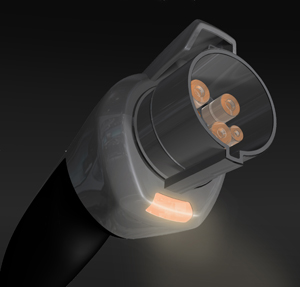 The J1772: soon to be a US standard
According to reports from GM, which sponsors the J1772 task force, that standard has received thumb-ips from Chrysler, Ford, Toyota, Honda, Nissan and Tesla, the last having apparently agreed to retrofit the new socket to all the cars it has already built.
GM is, naturally enough, pushing for the J1772 to be adopted as the industry standard before its Chevrolet Volt is launched in November 2010.
At the moment, nobody seems entirely sure if the J1772 and RWE plugs are the same or not. We would assume not, as the J1772 seems only to handle single-phase systems up to 240V and 70A, while the RWE design can handle three-phase charging.
Neither standard is final at the moment, the SAE task force saying that it hopes to be finished this autumn, while RWE expects to be done sometime next year.
Transatlantic incompatibility notwithstanding, even this degree of harmonisation has to be welcomed at this early in the e-car development game. ®