Darling supports broadband by raiding Granny's digital fund
Stop us if you've heard this one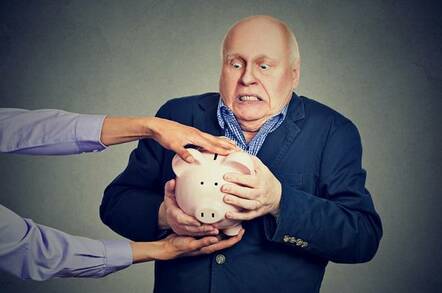 Budget 09 Alistair Darling used today's Budget to back calls for Universal Service obligations to include access to a decent broadband network regardless of where in the UK your home or business is.
The Budget pledged support for universal access to a 2 Megabit broadband network.
This will be paid for by the underspending on the Digital Switchover Help Scheme - the money set aside for buying grannies DAB radios and Freeview boxes.
The government will ask the BBC Trust how to get hold of this money and use it to improve internet access. Details will be announced with the full response to the Digital Britain report expected in June or July, Ofcom's powers are likely to be reviewed at the same time.
The Budget book said: "Universal Service will be complemented with further support to improve basic digital skills and promote broadband take-up, in order to ensure that adoption of broadband continues to grow in line with the expanding opportunities available."
The Budget also approved £100m in spending for a pilot next generation network in South Yorkshire
Telcos and other tech companies will also benefit from the doubling in the capital expenditure allowance, a £2.5bn budget set aside for investment in high-skilled jobs of the future, and the £750m strategic investment fund, though a third of the latter is set aside for low-cardon industries. Quite how much of this funding is actually new will no doubt become clear over the coming days.
Contractors group PCG said the Budget offered little for its members.
PCG's managing director John Brazier. "The UK's freelancers will be asking where are the helpful measures such as the repeal of IR35 and other distorting tax laws like s44-7; they will be sorely disappointed again by the lack of answers."
The UK's technology industry will feel an impact from the Budget but we reckon changes in government technology procurement and faster moves to shared services announced yesterday will make just as big a difference.