VMware anchors hypervisor future on 'nebulous phrase'
Clouds and thundersticks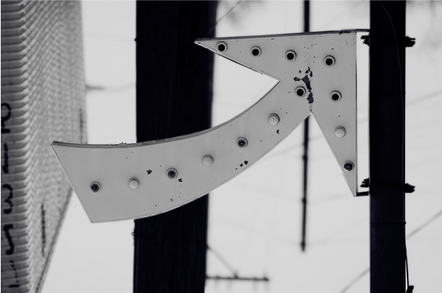 Virtualization heavyweight VMware has embraced what even its own CEO calls a "nebulous phrase": the cloud.
On Tuesday morning, VMware rolled out its giant-computer enabler, the vSphere virtualization hypervisor and management tools collection, at a raucous event at its Palo Alto, California headquarters.
How raucous? Picture a thousand identically blue-shirted VMware employees banging blue thundersticks to punctuate key moments in the presentation by Paul Maritz, VMware's president and CEO, and Steve Herrod, the company's CTO.
Maritz and Herrod - who performed an impressive set of demos - were joined by an equally impressive supporting cast, including John Chambers, chairman and CEO of Cisco; Pat Gelsinger, SVP and general manager of Intel's Digital Enterprise Group; James Mouton, SVP and CTO of HP's Technology Solutions Group; Michael Dell, chairman and CEO of the eponymous hardware company; and VMWare's nattily dressed chairman - and EMC's chairman, president, and CEO - Joseph Tucci.
Those noise-making employees were understandably stoked to celebrate vSphere's launch. According to Maritz, the development effort involved 1,000 engineers in 14 worldwide locations who worked on this upgrade of VMware Infrastructure 3 for a combined three million engineering hours.
vSphere's speed, feeds, and specs are an impressive step up from Infrastructure 3. And if its management tools work as seamlessly in the real world as they did in the event's demos, VMWare's new "private cloud" strategy has a good chance of fulfilling what Maritz called its "revolutionary" potential and what Tucci proclaimed to be "a platform of transformation."
Three demos in particular stood out during the 90-minute event. The first showcased what Herrod called vSphere's "shadow virtual machine" manager, VMware Fault Tolerance. The second demonstrated the storage maintenance and migration technology called VMware Storage VMotion. And the third gave a hint of what it's like to work at VMware.
Automated fault tolerance had first been demoed by VMware two years ago as a proof of concept, but as Herrod put it, "Not all of us thought we would get to this day." vSphere's VMware Fault Tolerance scheme works by duplicating all the processes running in a virtual machine (VM) by creating an exact replica of the first VM running on separate hardware. And "exact," Herrod explained, means "every instruction, every memory access, every single piece of I/O."
The two VMs thus operate in exact lock-step, though only one of them is visible to the outside world. If that visible system goes down, VMware Fault Tolerance will cut over to the shadow VM without any IT-management assistance and without any services being provided by that system being interrupted. In other words, VMware Fault Tolerance may obviate the need for fault-tolerant hardware.
In Herrod's demo - which was of a BlackBerry Enterprise Server feeding emails from Dick Chaney, Sarah Palin, and First Dog Bo to a faux Obama Blackberry - the source VM was running on a Dell blade server. Turning on the shadow VM was a two-click affair, after which VMware Fault Tolerance cloned the source VM over to another blade.
The demo used a mere 4GB storage partition, and so the cloning took only about 30 seconds. During the cloning period, the source VM continued to operate the Blackberry Enterprise Server.
To demonstrate VMware Fault Tolerance's effectiveness, an employee impersonating a Secret Service agent - it's Obama's BlackBerry, remember - simply unplugged the blade upon which the source VM was running and pulled it out of its rack. Without missing a beat that anyone in the hall could detect, the cloned VM took up immediately where the source VM had left off. Then, after the cloned VM had become the primary VM, it immediately looked for free resources on other hardware and cloned itself into another shadow VM - all without human interaction.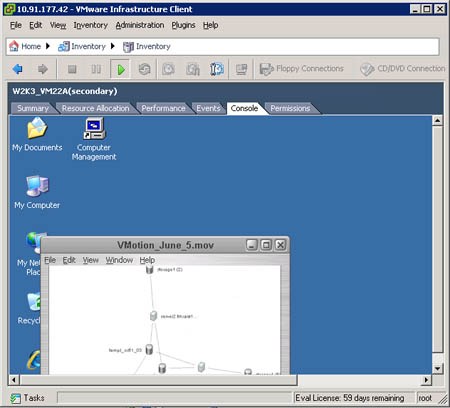 VMware Fault Tolerance automates disaster recovery
Sponsored: Becoming a Pragmatic Security Leader